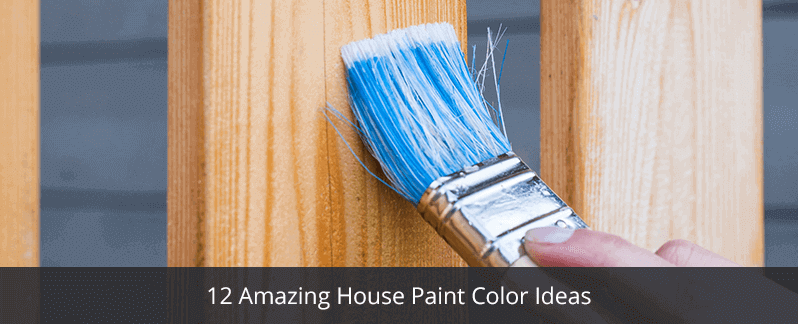 Whenever thinking about home improvement, you can never ignore the importance of the paint job. It is something that can make or break the look of an entire house. There are tons of paint color ideas with different finishes available in the market. You have the freedom to get a paint job that suits the look and feel of your house.
Whether you talk about a kitchen renovation or home improvements, you require special care while choosing the paint for ideal outcomes. This blog will provide you 12 ideas of house paints that are worth considering.
1. Semi-gloss House Paint
Source:
Pinterest
Semi-gloss paint is one of the best choices if you are looking for extra shine for your dull and boring home interior. It is famous for its sturdiness, so it will resist detrimental changes, and lower the wear and tear. Semi-gloss paint is a fine option for a children's bedroom, playroom, and bathroom. It is water-resistant, so you can easily clean off dirt marks. However, semi-gloss paint reflects light when it gets dry, so if you have any imperfections, it will make it more prominent. It is often used for walls, doors, windows, and furniture.
2. Camouflage House Paint
Add an unconventional custom-made look to your home interior or exterior by using camouflage paint. You can stick with the basic style by using classic brown, tan, and green, or you can play with different shades like purple, blue, orange, gray, red, and yellow. You can pick and choose by mixing and matching three or four basic colors and create your own custom-made camouflage design.
3. Rainbow-colored House Paint
Source:
Pinterest
Rainbow-colored paint can add colors to the wall of your bedroom, sitting room, kid's playroom, or their bedroom. Mostly, adults prefer solid color paints for their bedroom, but it will be a refreshing and healthy idea if you use vibrant colors and create a beautiful rainbow for your home interior. You can use three to ten different hues to brighten up the dark spaces of your house.
4. Leopard-printed House Paint
To spruce up the home décor, painting your house walls, doors, and furniture in leopard print is a phenomenal approach. People may find it a little crazy, but they won't appreciate your aesthetic sense. It depends on your preference whether you can select a single wall of your room, or you can paint your entire room into a leopard-print.
5. Dalmatian-spotted Wall Paint
Source:
Pinterest
Looking for something cute? Dalmatian-spotted wall paint is an answer for you. This chic and stylish design is the best choice for those who adore puppies and want to celebrate their love for puppies. You can use the Dalmatian-spotted creative design to decorate both the interior and exterior of your house. You can keep the base color of your wall white and then use a stencil to form the black spots to create the desired design.
6. Wet Paint Patterns
These state of the art designs may captivate and baffle the viewer. You can be as creative as you can with these designs by using anything from a toothpick to a paintbrush or a sponge to a comb to form unique and customized patterns on the wet paint.
7. Unicorn Theme Wall Paint
Source:
Pinterest
You can assemble and design the best unicorn themed bedroom as a birthday present for your preteen girls and boys. Teenagers are normally obsessed with unicorns and moon stuffed animals. So, to make them feel special, you can use light colors like pink, white, light blue, aqua, light green, and orange, etc. with a little bit added glitters to create their dream unicorn theme.
8. Black and White
Black and white never goes out of fashion. You want to try something less colorful yet classy then blend the interior and exterior of your house with unique black and white patterns. Black, white, and gray shades could be added to the ceilings, walls, doors, windows, and other indoor and outdoor decorations and furnishings.
9. Graphic Painted Wall Patterns
Source:
Pinterest
To elevate the style statement of your bedroom, graphic painted wall patterns are the best option. Graphic designs are highly customized so that you can create a personalized look for your bedroom, sitting room, study room, and other corners of your house. You can also take professional help and put your imagination to reality by creating unique and trendy designs.
10. Local and Regional Color Patterns and Textures
As an external viewer, it is a visual treat to look at a house that is painted in unique indigenous and traditional styles. People take pride in their culture and feel grounded if they keep attached to their roots and origin. A nice way to show love for your culture is by painting your house in the regional patterns and textures.
11. 3D Wall Paint Designs
Source:
Pinterest
The best way to convert a dull and dingy room into a refreshing sight is to use magnificent and jaw-dropping 3D wall paint designs. You can employ the services of an expert interior designer to create an astonishing 3D design. These majestic 3D designs can also be used to create optical illusions. You can play with different colors and styles to shape up the look you have in mind.
12. Plain White:
Despite all the advancements, you can never consider a dull white house paint dated. The style and sophistication that comes with a plain white finish are unmatched. You can tweak with different shades of white according to the style of your house to get the desired outcome.
If you are considering the best home addition and paint services in Toronto, ASASA Construction is the ideal choice for you.
If you want to know what renovation decreased your home value then read 11 Home Renovations That Can Decrease Home Value