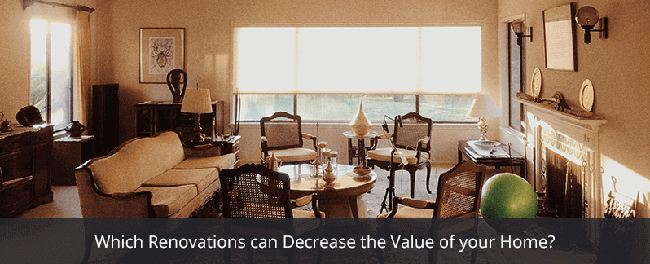 Your home is not just your castle or a place where you can relax after a tiring day — it is also an investment in your future. It's natural to make improvements to increase your home's resale value; some renovations will cost you loads of money in the future. According to the renovation companies in Toronto just because you see something like an upgrade does not mean a potential buyer will feel the same way.
Many people are under the influence that as long as they continue to invest in their homes, it's value will increase. Unfortunately, this is not the case, and homeowners need to be smart about what they spend their money on if their only goal is to increase the value of their property.
1. Luxurious Lighting Fixtures:
One of the most common home improvement mistakes is falling in love with luxurious light fixtures. Whether it be a hanging pendant or ceiling-mounted lights in a dining room, there is a psychological aspect that occurs when you go visit a lighting store. You are going to choose something exciting and new instead of picking an update that suddenly matches the big picture. The passage of trends tends to work against homeowners. Whatever is in fashion today will look dated ten years down the road when you are ready to sell. Simple is the best. Fortunately, lighting can easily be replaced at a lower price.
2. Extensive Wallpaper:
Source: Pinterest
With its textures and patterns, wallpaper can be an irresistible design choice for your home. Plus, it's spectacularly difficult to remove. Homebuyers might see wallpaper removal as a headache, and it could be the tipping point for someone who wants a move-in ready home. Neutral colors and fresh paint are always a good idea to help plan your home when it's on the market for sale. If you do have wallpaper, think whether it's useful to remove it and repaint the walls before any showings, so your potential buyers never have to think about your wallpaper mistakes. Home renovations services in Toronto is taking new turns with more people preferring wall paint over wallpapers.
3. Textures on the Ceilings and Walls:
Same as wallpaper, texture on walls and ceilings are hard to remove. Simply knowing the fact that a time-consuming project is waiting for them might cause homebuyers to decrease their bid. Think twice before deciding on an elegantly textured painting method, and play around with textured wall décor instead.
4. Off-the-wall Tiles:
Source: Pinterest
An over-personalized renovation can lower the price of a home, especially something like tiling, which requires more cash and effort to replace. Many buyers like to enhance the floors in their homes. Adding tile or wood can improve in value — unless you get the person who's looking for the 1950s diner look and institutes black-and-white tile. But for higher resale value, most homebuyers will see it as a distraction and something they will need to tear out. Instead of falling prey to tiling blunder, consider going with a traditional white tile floor, and buy a rug with the style you are going for. If you do not want to spend a fortune on a professional to replace the flooring, consider doing this home renovation yourself.
5. Excessive Carpeting:
The new hardwood floors could increase the sale price of a home by up to 2.5%. Compared to laminate and hardwood floors, carpet can be easily damaged. Colors and textures depend strongly on personal preference, and any over personal touches can lower a home's resale value. House renovation in Toronto tend to use carpeting as a means to add colors and textures.
6. Bright and Bold Paint Colors:
Source: Pinterest
Bold and bright paint colors can turn off any buyer who might lack a bit of vision. Repainting a room before putting your home in the market is an easy adjustment and an important one. Select neutral colors to present buyers with a blank canvas, which can help them envision the home in their style.
7. An Extremely High-end Kitchen:
The kitchen is generally known as the heart of a house, and it's a project many homeowners love to save up for. The resale value of a high-end kitchen remodels less than what you'll invest in it, however. In 2018, the national average for a major kitchen remodel was $63,158, but the resale value was only $41,560.
If you are searching for the most exceptional kitchen renovations in Toronto, look no other than ASASA Construction. We got the solution to all your renovation problems.
8. A High-end Bathroom:
Source: Pinterest
An upgraded bathroom can increase the value of your home, but it's simple to get carried away and take the idea of lavishness a little too serious. Potential buyers could be scared by bathroom remodel mistakes like over-personalized fixtures and over-the-top tubs that are difficult to clean and difficult for some people to climb in. Instead, consider a walk-in shower, which generally uses less floor space. Small bathroom renovations in Toronto seem to be at a hype. It is easier and cost-effective.
9. A Home Office Conversion:
Thanks to the latest technology, more experts have the freedom to work from home, and some might consider constructing a committed home office space to get the job completed. If the new office was earlier a bedroom, this could turn out to be a costly blunder. Along with abolishing bedroom furniture, you will need to add phone jacks and wall outlets (up to $421) and fix new hardware (up to $1,050). If a potential buyer would like to have the bedroom space, you wasted your money for nothing. According to construction companies in Toronto, it's a bad idea to convert tour home into an office.
10. Combining Bedrooms to Make One Spacious Room:
Source: Pinterest
Merging two small bedrooms to create a spacious room may seem like a good idea to a young couple without children or whose children have left the house. But this is a bad idea if you do not plan on staying in that home forever. Even small bedrooms increase the cost of homes, as most families want children to have their rooms but do not mind if they're on the small side. Each bedroom can increase the value of the home by about 15 percent. Rather than knocking down walls, try simple tricks to make your bedroom space look bigger, like modern and lighter colors, slim furniture.
11. Adding a Sunroom:
A sunroom can be a prodigious space to enjoy the outdoors away from the noise, but according to remodeling companies, a sunroom addition is one of the worst home renovations when it comes to the returning your investment, with the additional costs exceeding approximately $75,000 while only adding just over $35,000 to the value of the house. Think twice about how often you are going to use a sunroom before committing to this expensive renovation. Especially if you are looking into selling your home — plan to avoid the sneaky expenses that come with renovating your home.
Some renovations might seem appealing to you, but you need to rethink whether it is going to be useful or not in the longer run. With a little research, you can make the most out of your renovations. Adding style and increasing the price is an art, and this art can give you the profits you desire.
Home Renovations in Toronto:
Do you require more space? Do you desire your home was more comfortable, more functional, or more attractive? Are you wondering whether to improve or move?
Don't worry, the team of experts at ASASA got you covered. We offer mesmerizing home and basement renovations in Toronto at your ease. For more details, contact us.
If you want to hire a commercial constructor but you have no idea how to choose then read our blog Commercial Renovation Contractor-Tips to Make a Right Choice in 2021 It will help you out.