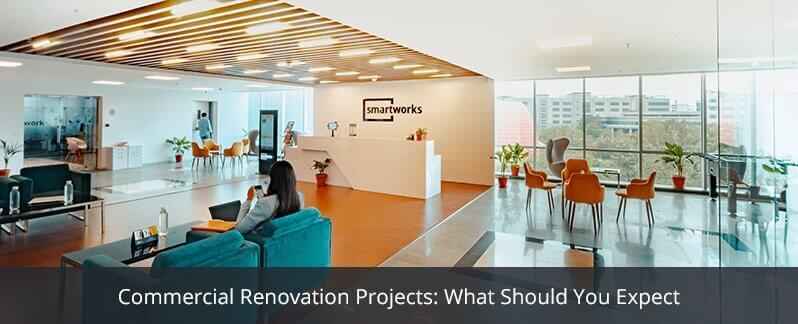 Commercial Renovation Projects: What Should You Expect
Along our journey, we were able to cater to a bunch of commercial renovation projects that made us learn a lot. The contractor should be able to provide clear expectations of the project to the client. Delays and unwanted surprises are not pleasing at all, and besides, it will cost you money. Delays can build a negative impact on the reputation of the company. Word of mouth is the biggest weapon.
Penalties and Fines
Source: Pinterest

Project Management Skills
A professional commercial renovation contractor in Mississauga is an expert in putting all the things together for you, and they put your ideas to life. Similarly, their experience in managing timelines, and they are capable of executing the job more efficiently. Renovating a current structure can reveal many hidden surprises. An experienced contractor will provide you with solutions to renovation challenges and will have the oversight to catch potential problems earlier in your project.
Source: Pinterest

Trade Connections and Technical Know-How

Professional commercial construction contractors in Mississauga come with well-established working relationships and discounts with the sub-traders and building suppliers. Plumbing, electrical, and gas renovations all need licensed contractors by law and are unsafe for the average DIYer. Contractors have a good understanding of building science and can make suggestions on how to improve the comfort of your home.
Source: Pinterest

Accurate Pricing
Professional contractors know how to do the deal with the commercial renovation process the right way. They know what the cost will be, and they will be able to tell you an estimated cost based on the expected scope of work. When you finalize the design, and all finishes and details are worked out, the contractor can give you an accurate price. Talk to your contractor's early stages in the design process to get a better understanding of what is achievable within the budget.
Insurance, Warranties, and Contracts
Adequate liability insurance and workers' compensation coverage are essential for all building and renovation projects. Professional contractors know this and have the proper coverage. As the homeowner, you should also know what kind of insurance you will require during the construction.
Source: Pinterest

Reputable contractors participate in workplace safety initiatives and take time to educate their staff. They also check that all sub-trades have workers' compensation coverage. Reliable contractors are in business for the long haul; so they will warranty their work and assure you are delighted with the achieved results after your project gets finished. They use a commercial building renovation checklist to ensure everything is up to the mark.
When you do home improvements yourself, you do not get a warranty. So it means that if the work is not done correctly, you have no recourse, and your time and money you invested are wasted. To make matters more worse, a below average construction job can even cause severe damage to your house. In other words, the price of not doing it correctly the first time can be high. One of the advantages of hiring a general contractor is that he or she can give a warranty, which means if something is not up to the level, the responsibility for fixing it lies with the contractor.
A Contractor is More Knowledgeable and Skilled.
Construction is not something to take lightly. Whether it is installing the new kitchen or adding a bedroom, it is vital to understand the in and out of home construction to protect the integrity of the current structure and guarantees that any new development is up to the mark. In contrast, if you are a weekend DIY-warrior, the chances that you possess the needed knowledge and skills are low. And when construction work is not up to the mark, it is considered unsafe, and you will likely have the contractor to do it again if a building inspector finds out. Commercial renovation cost varies greatly depending on the area you are living in. On Average, it will cost you around $250-$300 per sq ft to renovate your commercial place in Toronto. In Mississauga, the average price varies around $200-$250 per sq ft.
Source: Pinterest
Commercial Renovation Cost

In conclusion, there are relatively few scenes in which it makes sense for you to do home improvements yourself. Indeed, if you enjoy DIY, have access to all the proper tools and materials, and are capable of doing everything the right way. Then DIY may be an option. But even then, you can run into licensing issues. Plus you do not have a warranty for the work you have done.
Source: Pinterest

So all things considered, it is better to hire a qualified, experienced, and knowledgeable contractor. Who has access to a team of professionals and can get you the right materials at a reasonable price. That way, you will have a little peace of mind that all the work is done right the first time around. And that if anything goes wrong. You are protected by the contractor's warranty.
read more about Top 10 Safety Tips for Commercial Renovation Contractors