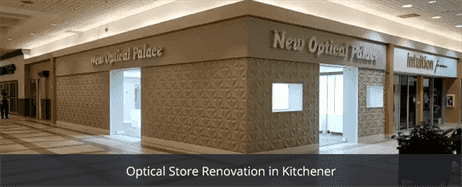 Optical store renovation can be a daunting task. With so many technological advancements taking place, it can be hard to choose the right materials for your store. From glass to wood, there is so much that you can use for your store. Wood and glass come in a variety of options and finishes. It gives you an edge when it comes to optical store renovation. You have so much to play around with to provide your store the look it deserves. After all, an aesthetically pleasing optical store can attract a large clientele, says commercial renovation contractors in Toronto. So you must make sure that your store is visually appealing and catchy enough to grab the attention of the visitor instantly. Commercial renovation and construction services in Toronto are pretty expensive and can rapidly increase your budget if you do not hire the right contractor.

Hiring the right contractor assures that you are on the right track, and you do not exceed your budget. I am very sure that you do not want to end up in a mess. Before you start renovating, make sure that you do thorough research and get referrals from friends and family. Do not immediately hire the contractor. Interview a few contractors and go for the most suitable one for your project. You can also go for the commercial renovation near you and ask for their suggestions for a better understanding. Commercial renovation and construction services in Toronto are indeed a massive industry, so it will not be hard for you to find the right contractor for your project.
Architectural and Engineering Services
Architectural engineering is also called building engineering or architecture engineering. It is an engineering type that deals with the technological parts and multi-disciplinary approach to planning, design, construction, and operation of buildings. Services such as the analysis and integrated design of the environmental, structural systems, behavior, and properties of building components, and construction management.

Interior Design Service
Interior Design refers to Designing the space efficiently, inside four walls. It includes electrical, plumbing, flooring, ceiling, walls, windows, furniture, electronics, kitchen systems, etc.
Some of them overlap with the architectural services like electrical and plumbing, window design (Since it affects the elevation of the building)
Classification based on the project we work on :
Commercial (includes malls, shops, stores, multiplexes, Exhibitions, etc.
Institutional (includes schools, colleges, training centers
Residential (Independent houses, flats, farmhouses, etc.
Offices (though commercial, the design matters change so does the economics
Classification based on the services provided: Interior Design consultant - One who designs the spaces, gives you lots of drawings and in modern times, pictures from 3D design software, or the internet.
Building Permits
No matter what kind of Commercial renovation process is planning, it is essential that you obtain the right building permits to initiate it. You can do the job without the licenses, but here are some fundamental reasons why you should obtain building permits:

Safety
The essential purpose of a building shed, or electrical permits are to make sure safety. By implementing proper safety standards, you and other occupants of the space are guaranteed the best chance to evade any accidents or issues during the construction process.

Keep Your Contractor Honest
If you hire a contractor without first obtaining a permit, they might be inclined to cut corners. It is especially important to remember if the contractor seems very cost-oriented. A residential building permit will make sure that your contractor uses safe and standard ways.

Guides Your DIY Project
Some projects might be simple enough to do yourself, but that does not mean you should not first obtain a permit. If you are performing a new renovation for the first time, a license can help guide you through the entire process.

Keeps Your Insurance Valid
If you construct something without a permit and make a mistake or sustain an injury, your insurance might not cover it. However, a building permit guarantees that you understand the dangers involved and that you have received explicit permission to move ahead with your project.

Valuable When Selling Your Home
If you perform renovations on your home or shop without a permit, a potential buyer will find out. If you are selling your home or shop, you should be able to provide legal proof that you performed all renovations with the proper permits.

Commercial Plumbing and Electrical Work
Commercial plumbers install elements such as kitchen fixtures, bathroom fixtures, drinking fountains, sprinkler systems, and sewer and water lines. As for maintenance, the plumbers fix drain leaks and repair the best pipes and broken sewer and water lines. Typically, working on plumbing fixtures in business establishments requires more work than home plumbing maintenance and can be a challenging task. For instance, business premises may have several bathrooms, drinking fountains, and kitchens onsite that require attention.
A commercial electrician is a licensed and trained electrician who's the main focus on wiring and electrical systems in commercial buildings and not the residential buildings. These electricians are experts in working with more significant systems in huge buildings like shopping malls, office buildings, restaurants, government buildings, and skyscrapers. Many parts of the job and training are similar to those of residential electricians, but there are also some significant differences to consider.
Milk Work Cabinets and Design
Custom-built cabinets let store owners match the décor and architecture, use space wisely, and add specialized touches to suit their needs. Pre-made cabinets may be cheaper and more comfortable than custom-built cabinets, but they will not be as useful or attractive as a quality custom cabinet. Here some advantages of custom-built cabinets:

Looking Good
Quality custom cabinets can be constructed with any kind of wood and any trim you can think. If your office is full of rustic pine furniture, you can custom design a cabinet in the same style. Similarly, a sleekly trim or crown-molding pattern can easily be matched with the edges of a custom-built cabinet.