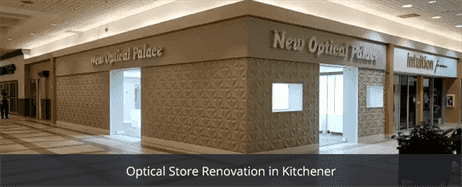 Optical store renovation can be a daunting task. With so many technological advancements taking place, it can be hard to choose the right materials for your store. From glass to wood, there is so much that you can use for your store. Wood and glass come in a variety of options and finishes. It gives you an edge when it comes to optical store renovation. You have so much to play around with to provide your store the look it deserves. After all, an aesthetically pleasing optical store can attract a large clientele, says commercial renovation contractors in Toronto. So you must make sure that your store is visually appealing and catchy enough to grab the attention of the visitor instantly. Commercial renovation and construction services in Toronto are pretty expensive and can rapidly increase your budget if you do not hire the right contractor.

Hiring the right contractor assures that you are on the right track, and you do not exceed your budget. I am very sure that you do not want to end up in a mess. Before you start renovating, make sure that you do thorough research and get referrals from friends and family. Do not immediately hire the contractor. Interview a few contractors and go for the most suitable one for your project. You can also go for the commercial renovation near you and ask for their suggestions for a better understanding. Commercial renovation and construction services in Toronto are indeed a massive industry, so it will not be hard for you to find the right contractor for your project.
Architectural and Engineering Services
Architectural engineering is also called building engineering or architecture engineering. It is an engineering type that deals with the technological parts and multi-disciplinary approach to planning, design, construction, and operation of buildings. Services such as the analysis and integrated design of the environmental, structural systems, behavior, and properties of building components, and construction management.

Interior Design Service
Interior Design refers to Designing the space efficiently, inside four walls. It includes electrical, plumbing, flooring, ceiling, walls, windows, furniture, electronics, kitchen systems, etc.
Some of them overlap with the architectural services like electrical and plumbing, window design (Since it affects the elevation of the building)
Classification based on the project we work on :
Commercial (includes malls, shops, stores, multiplexes, Exhibitions, etc.
Institutional (includes schools, colleges, training centers
Residential (Independent houses, flats, farmhouses, etc.
Offices (though commercial, the design matters change so does the economics
Classification based on the services provided: Interior Design consultant - One who designs the spaces, gives you lots of drawings and in modern times, pictures from 3D design software, or the internet.
Building Permits
No matter what kind of Commercial renovation process is planning, it is essential that you obtain the right building permits to initiate it. You can do the job without the licenses, but here are some fundamental reasons why you should obtain building permits:

Safety
The essential purpose of a building shed, or electrical permits are to make sure safety. By implementing proper safety standards, you and other occupants of the space are guaranteed the best chance to evade any accidents or issues during the construction process.

Keep Your Contractor Honest
If you hire a contractor without first obtaining a permit, they might be inclined to cut corners. It is especially important to remember if the contractor seems very cost-oriented. A residential building permit will make sure that your contractor uses safe and standard ways.

Guides Your DIY Project
Some projects might be simple enough to do yourself, but that does not mean you should not first obtain a permit. If you are performing a new renovation for the first time, a license can help guide you through the entire process.

Keeps Your Insurance Valid
If you construct something without a permit and make a mistake or sustain an injury, your insurance might not cover it. However, a building permit guarantees that you understand the dangers involved and that you have received explicit permission to move ahead with your project.

Valuable When Selling Your Home
If you perform renovations on your home or shop without a permit, a potential buyer will find out. If you are selling your home or shop, you should be able to provide legal proof that you performed all renovations with the proper permits.

Commercial Plumbing and Electrical Work
Commercial plumbers install elements such as kitchen fixtures, bathroom fixtures, drinking fountains, sprinkler systems, and sewer and water lines. As for maintenance, the plumbers fix drain leaks and repair the best pipes and broken sewer and water lines. Typically, working on plumbing fixtures in business establishments requires more work than home plumbing maintenance and can be a challenging task. For instance, business premises may have several bathrooms, drinking fountains, and kitchens onsite that require attention.
A commercial electrician is a licensed and trained electrician who's the main focus on wiring and electrical systems in commercial buildings and not the residential buildings. These electricians are experts in working with more significant systems in huge buildings like shopping malls, office buildings, restaurants, government buildings, and skyscrapers. Many parts of the job and training are similar to those of residential electricians, but there are also some significant differences to consider.
Milk Work Cabinets and Design
Custom-built cabinets let store owners match the décor and architecture, use space wisely, and add specialized touches to suit their needs. Pre-made cabinets may be cheaper and more comfortable than custom-built cabinets, but they will not be as useful or attractive as a quality custom cabinet. Here some advantages of custom-built cabinets:

Looking Good
Quality custom cabinets can be constructed with any kind of wood and any trim you can think. If your office is full of rustic pine furniture, you can custom design a cabinet in the same style. Similarly, a sleekly trim or crown-molding pattern can easily be matched with the edges of a custom-built cabinet.
Makes Space More Aesthetic
In offices and stores, spaces are designed to accommodate the standard sizes for pre-made cabinets. A custom-made office cabinet solves the problem of storage, as they can be designed to any size. Fill the space with beautiful custom millwork in Toronto with us. WE will leave an impression on the clients giving them an enticing shopping experience.
If you are looking for mesmerizing custom millwork and store fixture in Kitchener, we are all you need. Offering alluring designs to suit your needs.
Optical Store Renovation
The commercial renovation process can be quite daunting, with a lot of minute details to take into consideration. Hiring a contractor would be an appropriate way to deal with this process. A contractor will make sure that all your construction and permit needs are being met. It saves time and the hassle to go to local government offices. Hiring the right contractor is the key. The right contractor is ten key to success. You should be very careful when hiring the right contractor for your project as glass displays and showcases can easily damage. A small mistake of the contractor can increase your budget. Get referrals from your friends and family and also visit the local contractor offices. You can also search contractors around you over the internet. Interview several contractors before choosing the best one for your project.
Optical Store Fixture and Showcases
When it comes to opting the right material for your display island and showcases, there are plenty of options available in the market. Some of the options are:

Hardwood
Hardwood is one of the most popular cabinet materials and is being used for decades – since cabinets were first created. Here are the pros of choosing hardwood for your storage cabinets and showcases.
Advantages of Hardwood
Here are some advantages of hardwood as a cabinet material to help you in deciding how to refinish your cabinets.
Hardwood is a natural material that is harvested from trees. Because of the natural component, this means that every panel can vary slightly, as individual trees have their textures, colors, and grain patterns. This natural variation enhances the appeal of hardwood as a cabinet material – it is truly unique and beautiful in its way. Just like hardwood floors are highly valued, hardwood cabinets can be valued too.
Hardwood is highly durable, and it is also pretty easy to repair. You can even handle many of these repairs yourself, through sanding or refinishing. You can also hire a good contractor who can help with these repairs for a considerable price.
Hardwood cabinets do have a very long lifespan, due to their durability.
There are so many different kinds of wood to opt from, each with their distinct look, feel, and color. Some of the most popular woods include: white oak, red oak, hickory, cherry, hard maple, birch, ash, and pine
Plywood
Plywood is also another popular cabinet material and offers multiple benefits. It is produced by laminating thin layers of wood on top of each other using a mixture of glue, heat, and pressure, in alternating angles to develop strength. Varying the direction of the grain provide plywood equal strength in all directions. Here are somethings that you should know about hardwood and how it works as one of the best materials for your cabinets.
Advantages of Plywood
Plywood is a unique cabinet material with a number of benefits.
Plywood is known by many to be the best option for cabinets. It resists moisture, and it is very flexible and easy to install, and it highly durable. It is undoubtedly the best material for cabinet sides, backs, shelves, and drawer bottoms.
Due to its sleek construction, plywood has the highest strength-to-weight ratio of all of the best cabinet materials. It is sturdy and resilient.
Plywood is easy to repair and replace. It can also withstand and hold up to drilling better than other materials. It is known to be an ideal cabinet material.
In terms of cost, plywood is highly accessible. It is less expensive than hardwood but more costly than lower-end materials, like particleboard and laminate.
Medium Density Fiberboard
If you're looking for quality in between plywood and particleboard, a great option is medium-density fiberboard (MDF) for your doors and drawers. MDF derives from smaller fibers than particleboard, which is what makes it more durable.

Advantages of Medium-Density Fiberboard
MDF has several advantages as one of the best cabinet materials. Here is what you should know.
Due to its amazing composition with small fibers, MDF is highly durable and stable.
MDF is warp and expansion free from the temperature changes and moisture.
The surface of medium-density fiberboard has a smooth finish, so it lends itself well to paints and stainsns.
MDF provides superior screw-holding power and is reasonably easy to manipulate, as far as cabinet materials go
Laminate
Laminate is known to be a highly affordable material that can easily be used in the shops from floors to counters, to cabinets.
Laminate cabinets are constructed of three resin-saturated layers. They consist of a base layer of paper, a printed and colored layer (which might seem like wood), and a protective transparent layer. These three layers are fused together to produce a heavy, durable cabinet face alternative. They are suitable for vinyl flooring in your retail outlets.
Laminate is also used as a cabinet material to cover store cabinets and drawers for extra space and also some interior surfaces. They can not be used on the interior shelves and drawers of the cabinets. They are best for Optical Labs renovation and doctors' office renovation and is good for adding extra sleekness.
Laminate cabinets are highly durable, especially when you choose a higher quality laminate. Lower quality laminates are cheaper, but not as durable – they have a greater tendency to crack, chip, and scuff.
Wood Veneer
Another great option for storage cabinet materials is wood veneer. It is a very thin layer of solid hardwood peeled from a log. This kind of material has many, but since it is used in much smaller quantities, it has some other qualities that are worth knowing:

Advantages of Wood Veneer
Wood veneer is generally used in tandem with other materials. Wood veneers that are usually less than 2mm thick. They are typically glued and pressed to particleboard or MDF to produce flat panels. In this way, retail owners can reap the aesthetic and durability advantages of hardwood but save costs by leaning on particleboard, plywood, or MDF to compose the cabinets.
Wood veneer is preferred over other good finishes since it is lightweight and stable.
Wood veneer is also an affordable variation of true hardwood.
3D Decorative Wall Panel
Wall panels have been in use for ages now. Thanks to technological advancements, today's panels provide so much more, including low-maintenance costs, high-tech materials, and easy to install. If you are thinking of integrating wall panels into your spaces, you will surely have a great experience. These panels are designed to help you show the best of your retail space. They are a good option for hiding the issues on your walls, making unused rooms livable, improving your aesthetics, and decorating your space. The above-mentioned reasons are enough why you should use 3D wall panels in your spaces. If you still are not convinced, here are more reasons why you should get them:
Superior Materials
When you hear the word panel, the first impression that comes to your mind is wood. Panels are created from wood. However, it is not the only material that is available. There is MDF, which provides flexibility in designs, textures, and patterns, and melamine, which is suitable for high impact prints and more creative wall décor. All these options come in different textures and colors to match your taste.

Low-maintenance:
Some walls will need that you wash, paint, or even replace them after a little while due to marks, indentations, and scratches. This can be tiring and costly, as well. Wall panels resist impact, meaning you will not have to do wall repairs or frequent touch-ups.

Wide-ranging Designs:
When there is a limited option for a product, you are bound to use what is available. But when there are numerous choices, it is easier to narrow down the one that perfectly matches your spaces. One advantage of utilizing 3D wall panels is that they come in a wide variety of selections to match the diverse demands of clients. Some have patterns that reflect the grain of the natural wood while others use faux materials that look like marble, stone, limestone, granite, and even bark. Depending on the vendor, you can even customize your panels printed with almost any design.
Easy to Install
Unlike other kinds of wall decoration materials, wall panels evade the need to be worried about the exposed adhesive, grout lines, and other installation issues. Most of them come equipped with a clip and a rail system or an appropriate tongue and groove system, making installation almost as easy as placing two pieces of a jigsaw puzzle together.
Renovating your retail store just the right way needs some efforts and research. If not properly renovated, it can leave a bad impression on the clients. A sleekly designed retail store will leave an unforgettable impression about your brand in your customer's mind.
ASASA constructions are pioneers of out of the world retail store and commercial bathroom renovation. We got all you need when it comes to your retail store needs. Our connections with well-known vendors help us lower the cost of your project
For more images and information read: CUSTOM OPTICAL STORE RENOVATION IN KITCHENER(COMPLETED IN 11 BUSINESS DAYS)