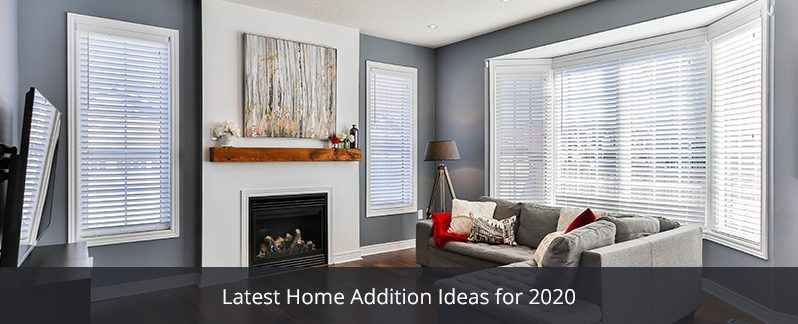 A home addition can be a hard-hitting task, but most people are willing to take the challenge. As we move towards 2021, people are getting more creative. Home additions in Toronto are taking place at a rapid pace as people are looking for more space to live. There are several types of home additions ideas available for you to choose depending on what you want. Here we will show you the latest home addition ideas for 2021 that can give your house an out of the world look.
Latest Home Addition Ideas:

Addition of a Small Personal Gym
(Classic Home Addition Idea for a Healthy Family)
Source: Pinterest
Fitness is important for our daily life and our health. It plays a vital role in helping us digest food and helps us to stay fit. It will save you the money for expensive memberships at gyms. With a little effort and creativity, you can create a gym right in your home. Adding a workout room will increase the resale value of your home. Convenience is also the most important aspect, and you don't need to push your self into crowded gyms. Having your gym at home means you can have control over music, cleanliness, and spend as much time as possible on the treadmill. The benefits of regular exercise include weight loss, reduced risk of heart diseases, and help your body manage blood sugar and insulin levels.
ASASA Construction- reshaping home renovations in Toronto like never before.
Addition of a Small Indoor Swimming Pool
(Luxurious Home Addition Idea for Couples)
Source: Pinterest
The addition of a swimming pool can be another mesmerizing latest home addition ideas for 2021 that you can make to your home. A public swimming pool is not hygienic as you think so you might want to consider having a personal swimming pool. An indoor pool can always create a splendid environment for the family to relax and have fun at the same time. Having an indoor swimming pool can be used throughout the year despite the weather conditions outside, making you stay in great shape. If you have young kids, remember to make a shallow part for them. Make sure that your pool design and tones should match the rest of the house making it look like a part of it. Having a personal pool inside the house gives you the convenience of working out at your home.
Addition of a Small Study Room
(Best Home Addition Idea for a Family with Kids)
Source: Pinterest
A study room is one of the most important additions to a home. Adults may need to study or work at home while kids also need to study and complete assignments. Because this work has a serious nature, It's important to have a separate room that creates a serious yet fun mood for working or studying. Keeping a small study room organized and appealing can be a hustle if you have too many books or study items. In such a case, storage comes in handy. Make sure that you install sufficient storage places for the kids to store their books and other study materials. A fun study room will help your kids study in a more fun way. Don't forget to be creative.
Did you know that a separate study room can help enhance the concentration levels of your kid? ASASA Construction brings you sleek study room designs in Toronto. Our experts are trained to design study rooms that will give your child the best experience.
Addition of a Small Office
(Ideal Home Addition Idea for a Home-Based Working Mother)
Source: Pinterest

A small office can be placed anywhere in your home because it doesn't require a lot of space. Your room or your living room can also transform to create a small office. All a small office needs is a desk, a chair, and enough storage space. You can reuse the existing materials for storage purposes and anything you need while working. Open wall mounted shelves are a good option As they can be easily cleaned and rearranged during special events and holidays. The most important features of a small home office are electrical supplies that have easy access and should be able to withstand the lights and your computer equipment. You can even use old furniture in the house to create a small office. It will save you a sufficient amount of money.

Addition of Walk-in Wardrobe
(Most Demanded Home Addition Idea)
Source: Pinterest
As our shopping needs increase, so does the need to have sufficient storage space. Small walk-in cabinets will have three useable sides. There is a vast range of materials available in the market for the closets. MDF can be a good option due to its high durability and low prices. Organize your cabinets well, so it doesn't get hard for you to find your stuff. When choosing the colors and tone, make sure to go for the lighter tones. They tend to expand the place visually. They tend to be smaller than the regular wall closets. Walk-in closets add up to the value of your property. Custom closet designs can help you increase the storage space.
Home Addition of a Pool Table
(Best Home Addition Idea for Super Weekends)
Source: Pinterest
Having an indoor pool table can be a great addition to the house. There are several varieties of pool tables available in the market. Pool tables come in different sizes, and the price depends on the size and the material used. There is a lot of new colors available in the market, including customized colors and designs. Ceramic table tops, glass available, and reclaimed wood with a vintage touch are available in combinations and styles to match today's interior design. These days pool table owners are going for unique colors such as grey, pink, and purple are some of the favorite colors. The pool table can be a good source of entertainment during special weekends and family parties.
Home additions can be tricky and pretty expensive, but with a little research and effort, you can save your self a decent amount of money. A home addition is considered a substantial investment that is sure to increase the value of the real estate. Real estate agents drool over properties with modern additions. It's a good way to add fun and exciting activities in your life, keeping you fit and healthy.
Give your house a new addition by choosing one of these latest home addition ideas for 2021 to get the maximum benefit from your space, contact our experts for your FREE Addition QUOTE. For keeping yourself updated with interesting ideas for a small bathroom renovation, check out: 10 Awesome Small Bathroom Renovation Ideas for a Luxury Vintage Look in 2021.