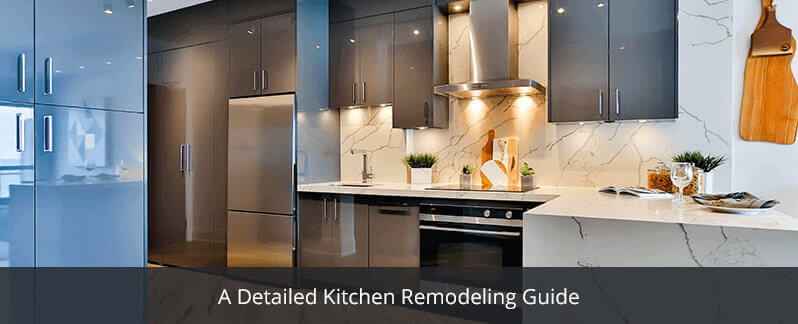 Looking for a kitchen remodeling? Don't know what to consider for the renovation? Well, this post is going to guide you on what to consider for a kitchen remodel. Kitchen renovation and design can be tricky at times. From deciding the budget to buying appliances everything should be carefully planned. If you don't feel like hustling to the stores all by yourself hiring a kitchen contractor can be an option too. But this may add up to your budget. Before you go all DIY you should do some research on what's trending. ASASA Construction provides sleek kitchen remodeling in Toronto
Kitchen renovation can get tricky but with a few measures beforehand you can brace yourself with the kitchen that you have always dreamt of.
Budget
Planning your budget might be a complex task but it's a notable factor in your kitchen renovation. With a little research, you won't be needing to pour out extra money for kitchen renovators while you can actually spend them on fancy electronics and decor. You need to carefully analyze each and every aspect of the kitchen while calculating your budget. From electronics to the light bulbs and light switches everything should be taken into consideration while you plan for the budget. Kitchen renovation is done once in a blue moon so plan your budget accordingly.
Choosing the Appliances
Choosing the right appliances that fit your needs should be the top-notch priority. Remember your our Appliances are your weapons in the kitchen so do some research about the brands that offer quality appliances at an affordable price. Features and performance are also some of the eminent features to keep in mind while opting for home appliances.
Source: Pinterest
Brands like LG, Samsung, whirlpool offer a wide range of appliances at reasonable prices. White appliances are all-time classics followed by black. Stainless steel with its vintage look and durability could be another choice. Even if you have to add up to your budget do it but do not compromise on quality and durability.
Factors to keep in mind while choosing a kitchen appliance:
Weight and Size: Shouldn't be too heavy or too large for the designated place.
User-friendliness: Your appliances should be easy to use and easy to clean.
Material: keep in mind the manufacturing material for your appliances. Choose materials that are long-lasting. For example, if you are buying taps make sure they are made of stainless material to prevent them from rusting.
Electricity Consumption: Do keep in mind the cost of electricity in your area before you make a purchase. High voltage appliances might add to the cost of your electricity bills.
Designing and Decor
Design and decor are what's going to make your kitchen look exuberant. Making sure your floors and countertops are easily cleanable. Setting up a theme would be a great idea. Make sure your appliances and furniture go well with the theme of the kitchen. Using ceramics would be a great idea as they offer a wide range of colors and textures. Consider Your Dishware and Kitchen Tools When Designing Cabinets. If you live in Toronto, we are the best kitchen contractors around you. the best kitchen contractors around you.
Source: Pinterest
Lighting also plays a major role in the kitchen. Amazing lighting will give your kitchen an out of the world look. Make sure your lights are not too dull nor too bright. Your lights should be supporting the theme of your kitchen. Make sure to place the switches to an easily accessible place.
Being Innovative
Be open to new ideas. Don't shy out from being innovative and creative. You are not going to be remodeling your kitchen every day so this is your only chance to get creative. The Internet is flooded with tons of ideas everyday. You can even go to the local book shop or library to get magazines that offer a great variety of ideas. Always remember to think out of the box. Some innovations include wall fitted refrigerators that can save you a bunch of space to work out.
Source: Pinterest
Space
Remember your kitchen is like a dance floor so give enough space to yourself to move around. Make sure the things do not look over congested. Cabinets should be within reach so you can easily fetch your utensils when required. Kitchen renovation companies in Toronto urge people to make their kitchen a bit spacy. You can even step up and hire a designer to perfectly design the spacing for your kitchen. Your space should be able to serve the purpose of the kitchen.
Source: Pinterest
Purpose of the Kitchen
A kitchen should be designed in a way that serves its purpose. A few questions to ponder over include:
What's the usage of the kitchen?
Is there enough space to accommodate a dining table?
What appliances do you require?
Does the design and texture reflect the rest of the house?
Source: Pinterest
If these questions remain unanswered you're like to mess up the entire kitchen and like to end up wasting your hard-earned money.
Loan for your Kitchen
Renovation takes place once in a blue moon so don't let the money be a hurdle. There are a lot of renovating companies that offer loans at good rates. Before you contact a company make sure you have done your homework. Don't go for low priced products as they might not be able to cope up with your expectations. A beautifully and carefully designed kitchen will have the capability to refresh your mind every time you enter.
With a few precautionary measures and a little research, you can get the perfect kitchen. All the pros and cons should be kept in mind before you start purchasing or even renovating. Kitchen remodeling can get a little frantic but make sure you enjoy every single thing. The kitchen that fulfills its soul purpose is a perfect kitchen so don't ignore the minute details along the process.
If you are looking for remodeling your kitchen in Toronto don't forget to check out the best kitchen contractors near you. The kitchen renovation companies in Toronto are well renowned for their exquisite designs and the wide range of services they offer. With high-end customer satisfaction and top-notch services make them noticeable around the globe.
For more read: The Most Trendy Kitchen Cabinets Materials And Their Estimated Prices