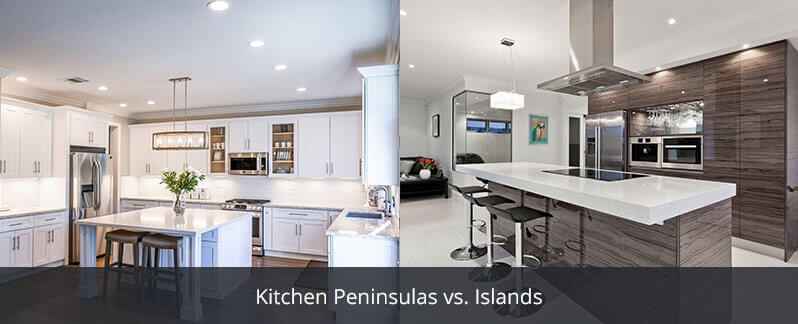 The kitchen is known to be the heart of your home. It is not just a place to cook food and eat but also used as a place for family gatherings, bonding, working, and much more. In some ways, It is the new living room. To enjoy all the perks your kitchen has for you, the design and layout have to be straight. When it comes to layouts, most people go for the kitchen island. An island is a free-standing counter space, generally located somewhere near the center of a kitchen, and used for added workspace for the chef or a place for friends to sit and talk, among other things. Kitchen islands are extremely useful and versatile, but they are not the only option available. There's also peninsulas.
Here's the thing: the kitchen island installation is great if you have space. Often, however, an island isn't a viable layout for space you are working with. Luckily, the peninsula offers the same but more suiting option for specific kitchens.
Here's the thing: the kitchen island installation is great if you have space. Often, however, an island isn't a viable layout for space you are working with. Luckily, the peninsula offers the same but more suiting option for specific kitchens.
What is a Kitchen Peninsula?
You must have heard of a kitchen island. But what about a kitchen peninsula? One thing that differentiates a peninsula from the island is its link to the rest of the kitchen. A kitchen island is a special free-standing unit generally found somewhere near the heart of the kitchen, while the kitchen peninsula considered as an expansion that juts out to the rest of the room. A kitchen peninsula is an island that is adjacent to a wall or another surface but only on one side, with the three other sides opened up as a workspace. Acting as an alluring toned fragment for the kitchen, either a peninsula or island added to improve your storage and countertop space.
Source: Pinterest
Two Major Types of Kitchen with Peninsulas:
U-shaped Kitchen with Peninsula
Homeowners with significant kitchen space may want to explore the option of a U-shaped kitchen with a peninsula. By one added leg to a U-shaped kitchen, a peninsula can be used to provide more than enough counter space or workspace. One of the more astonishing advantages of this kitchen layout is the versatility, which features significantly more probable surface area, appliance space, and storage options. Use Maple base cabinets and peninsula and white shaker wall cabinets in this kitchen with a U-shaped peninsula.
Source: Pinterest
L-shaped Kitchen with Peninsula
An L-shaped peninsula is suitable for both small and large kitchens, with two workstations. This peninsula has a white quartzite countertop and ample storage complete with period-style fixtures. The elegant quartzite has a light veining that creates a soft movement. This L-shaped kitchen with a white quartz countertop peninsula and dark panel cabinetry cladded with veneer wood receives a clean, modern aesthetic.
For alluring kitchen renovations in Toronto, contact us.
Source: Pinterest
Advantages & Disadvantages
Kitchen islands are famous in contemporary kitchen design, but peninsulas can also cover the storage, washing, and food preparation operations without taking up as much floor space. If your kitchen space is defined, but you want to revamp every inch of the design, then the peninsula is an optimal choice. A peninsula provides an additional work zone, informal dining area, and extra storage that may utilize to keep cookware and other important accessories. Furthermore, peninsulas can also be configured as a room divider for an open plan living space, separating the kitchen and lounge space.
One core concern that you may run into with the peninsulas is a trapping effect. A case in the center would be the U-shaped peninsula. It forms a boundary for guests by sectioning off the kitchen space. Having only one point to enter, the actual space for moving around means you can get stuck if you are sharing the kitchen with somebody else. Nobody wants to feel trapped or suffocated in the kitchen. The kitchen island, on the other hand, provides different sides for easy entry.
Kitchen Island
The kitchen island is the most famous kitchen design. The island is the same as it is in nature — a free-standing entity with no limits. When indicating the island in the kitchen, the island can serve several functions, including added storage, counter area, an area for family and friends to eat, sit, and chat, and even where you locate your kitchen sink or oven and cook range.
Source: Pinterest
The kitchen island design is amazingly versatile and will become the centerpiece of your kitchen. Islands are amazing for snack bars during the gatherings, can provide an added space for food prep and more. Islands can optimize your kitchen's workflow by reducing the time spent walking between prep areas and the appliances. Food will be directed away from your work triangle, and the island can grant a natural barrier between islands in your home.
Rolling Kitchen Island
More like a cart than an island, the rolling kitchen island is uncomplicated of the portable group. Mostly people use it as a serving cart and temporary prep surface because they move it anywhere they want in the living room, kitchen, and dining room. They come along with locking wheels to keep them stable but easy to unlock with the flick of a tab. You must have seen this in restaurants where they cook the meal or dessert right at the serving table.
Source: Pinterest
Mostly the rolling kitchen islands are open. You will rarely find one with any close storage spaces. Some might have open shelve under the main workspace, but that is the degree of its storage capacity. The butcher-block cart is a famous type of rolling kitchen island used in the homes. You can get them ready to use from home depots, or you can have them custom-built to order. Some are made of either metal or wood, and some may be small or quite large. Some come in several categories or industrial-grade stainless steel, and these are expensive.
Small Kitchen Islands
Small kitchen islands might look a lot like the rolling carts, except for one important detail: they do not have wheels. It does not make them the permanent islands, however, as they are not always fixed to the floor. You can move them if you need them, and the smaller ones are quite easy to move. A small kitchen island does not generally exceed four feet in the length, although some may have the foldable extensions. They are standard for smaller kitchens if you want to add counter space without having to do any major remodeling.
Some people deem this type of kitchen island more like tables, but functionally, they are kitchen islands. The work surface is the standard 38 inches height for food preparation and usually comes with cabinets to be used as storage. Many homeowners prefer the granite countertops for the work surface, although marble countertops would be more suitable if it is a pastry table. You can buy them ready-made, although it is better to have one custom built to specifications.
Kitchen Table Islands
You will find this kind of kitchen island in mostly larger kitchens, and it is just a table. The key reason designers refer to it as a kitchen island is that it is located in the middle of the kitchen. It is also part of the portable group because you can easily remove it any time you want. Most people use it as the informal dining area, or a handy place to hold groceries and dishes that are ready to go to the main dining room.
Source: Pinterest
Cabinet Kitchen Islands
A very simple way to build the kitchen island for the kitchen is to use one or (two or four) base cabinets and spice it with marble, granite, or quartz slabs. You will not have to buy new ones. If you are replacing the old base cabinets with the new ones, you can reuse them instead of throwing them away, provided that they are in sound condition. Note that if the total work area is over 2 square feet, it is heavy to be anything but a fixed island. You may have to put in the electrical wiring to adhere to the electrical code.
Full Kitchen Islands
The most familiar kind of kitchen island is a full island, often featured in the design sites and magazines. It is a fixed island located in the middle of the room with granite or quartz countertops. You can run the pipes and wiring to make it functional as a cooking and eating area. Most people tend to use this type of island as a breakfast nook, homework area, and docking station. In smaller homes, the kitchen island doubles up as the dining area.
Source: Pinterest
Double-tiered Island
It is usually the same as the full kitchen island, except that it has two different levels of counters. It works well as a divider in the open floor design, and often as an entertainment area. The two levels have standard heights of 36 inches (for food preparation) and 42 inches (for the bar). You can use the higher tier as a wet bar and buffet table during the parties.
Source: Pinterest
Kitchen Island Advantages & Disadvantages:
Advantages:
The more famous design element
Easy access on all four sides
Adds up functionality to your kitchen
Safeguards the open room concept
Has more design options
Can increase your kitchen's niceties
Disadvantages:
Not generally a good fit for a small kitchen
Requires sufficient space to be functional
Difficult and costly to add during a remodel
For a kitchen peninsula of 24 square feet with only cabinets and an overhanging granite countertop for seating, materials costs will cost approximately $2,160. Labor will be approximately $970 for a total project cost of about $3,130.
Kitchen Islands vs. Peninsulas
The main difference between kitchen islands and peninsulas lies in how perfectly they fit into the design.
An island consists of a free-standing unit with four open sides. The counters and cabinets may match the ones alongside the walls, or they may use a contrasting color or material.
A peninsula, contrary, is open on three sides, but the fourth side connects to one wall. The peninsula design is generally a continuation of the counter and cabinet design that is alongside the walls.
Despite the differences between peninsulas and islands, these two fixtures still share a lot of identical attributes:
It can enhance the amount of work and storage space in the kitchen.
It works in the open-concept kitchens.
They favor you to face the guests or family members as you are preparing food.
They can also merge a seating area.
Costs Comparison:
Most homeowners add peninsulas or islands during a complete kitchen remodel, so our job is to arrange how much the island or peninsula adds up to the entire kitchen remodel budget. The average kitchen remodels project costs approximately $101 per square foot of counter space. It includes the replacement of countertops and cabinets, existing appliances with energy-efficient ones, and faucet and sinks. Addition of new flooring and separate calculations using the square foot of the kitchen.
Since most islands have an appliance added and a sink to the island to sustain the work triangle, $101 per square foot would be the average cost of the materials for the installation of the kitchen islands. Labor for an island installation needs the use of several experts: carpenter on average $70 an hour, electrician on average $75 an hour, plumber on average $55 an hour, painter on average $28 an hour, and countertop installer for almost $15 per square foot, depending on the type of countertop used.
If we include the kitchen island of 24 square feet with a sink, cabinet space, dishwasher space, and an overhanging granite countertop for the seating, we will spend almost $2,425 for the project materials. Labor will cost nearly $2,075 for a total project cost of almost $4,500.
If you take a look at photos of the most famous kitchen peninsulas, you will see that few are more than the cabinet and seating areas. Because the new addition does not disrupt the work triangle, we do not have to bear the costs of moving sinks or appliances. For the peninsula, we can use the average price of installing custom made cabinets with countertops, which is about $90 per square foot. We will only require the labor of the carpenter, electrician for the outlets, painter, and the countertop installer. It will reduce the cost of labor overall.
Just consider that peninsulas can reduce the traffic flow since you can not walk around them on both sides. You might end up with a dead counter or cabinet space around the area where the fixture will meet the wall. In certain designs, you might not have to make the kitchen peninsula or island decision at all. Instead, you might be able to include both the components. For example, in the large U-shaped or G-shaped kitchen, you may have the space for the small island in between the peninsula and the back wall. In most kitchens, you will have to make a final decision about whether you want a kitchen peninsula or island.
For custom kitchen ideas, read Custom Kitchen Cabinets & Renovation Ideas [Materials & Prices for 2021]