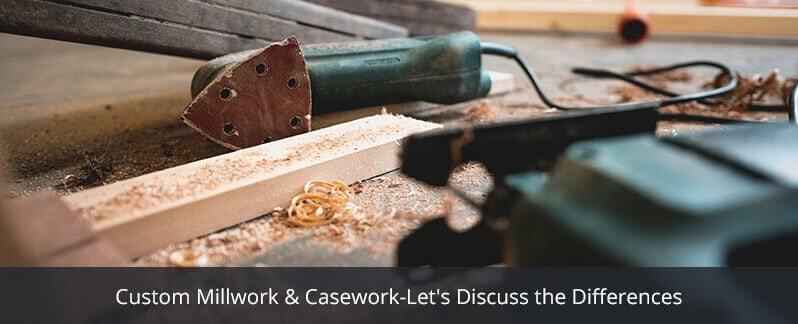 What is Millwork?
Millwork is any type of woodwork that can be produced in a mill and custom millwork is a unique design created according to specific requirements in a mill. It includes moldings, trim, flooring, crown molding, and wall paneling.
Source: Pinterest

Millwork, as the name portrays, is produced in a mill. Flooring and moldings are often produced in mills, so they are called millwork. Millwork might also include decorative products such as door casings and metals. Millwork can be done from common wood types such as pine, oak, but I can also include uncommon wood types such as poplar, fir, hickory, and maple. Some manufactured wood products have a high density to be used in millwork, such as MDF. Millwork products only require nails, screws, and adhesives to be installed, which makes them convenient and easy. Millwork can be of standard lengths and can be painted or stained. When purchasing millwork, carpenters need to be sure that they buy enough of the products to complete their project because millwork is not always consistent.

ASASA Construction provides sleek custom millwork in Toronto. With extensive years of experience, we know how to do it just the way you like.

Homeowners must make some important choices when deciding to install custom woodwork in their home. Litchfield Builders does its best to walk homeowners through this process to assure that every client gets the kind of wood and level of quality that will meet their desires.

Types of Wood
When opting for millwork wood, homeowners should consider rot resistance, strength, grain, color, and softness. All of these characteristics will impact the project, and using the wrong wood can result in a less attractive or less durable product. Some of the most common kind of wood that is used for millwork are:
White Oak
Source: Pinterest

This hardwood is dense and durable and is often used in cabinetry and furniture. Clients tend to like the full-grain, the way that oak blends with other woods, and also the economical price of this high-quality product.

Walnut
Source: Pinterest

This hardwood is highly desirable for its alluring deep brown color and dense grain. Walnut can be more costly and thus might not be realistic for all customers, but those who do use walnut should find themselves satisfied with the results.

Fir
Source: Pinterest

It is a flexible wood that can blend with a wide variety of different strains that are dark or light according to the requirements of the customer.

Birch
Source: Pinterest

This light reddish wood and is a hard, medium weight product that creates a fine grain. Birch is most commonly used with millwork and in furniture building.

Cherry
This deep reddish-brown wood is of medium weight and is relatively hard. Cherry creates a beautiful finish with a fine grain that is highly desirable for specific customers.
Level of Detail
The level of detail that the client opts for the project will depend on the kind of project, the type of the home, and the customer's budget. Individual styles have a limited requirement for highly detailed work. For example, contemporary style millwork is often had a minimalist appearance, with little hand carving involved. Traditional millwork is often much more precise. Clients can opt for the level of detail that's right for them by discussing this with their contractor.
Custom Millwork Projects for Every Home
How can you incorporate millwork into the home renovation project? There are plenty of options provided by custom millwork companies.
Crown molding and wainscoting
When most people think of custom millwork, the first thing that comes to mind is crown molding. This decorative, traditional type of custom millwork can be found in homes of all kinds. Wainscoting helps guard the walls, hiding scuffs and providing additional strength as well as attractive value. Molding can draw attention to the height of a room.
Complete custom kitchen millwork creations
Your custom kitchen is full without millwork creations. Custom cabinetry lets homeowners install the type of cabinetry that will make the most sense for their needs so that each homeowner can get the most use out of their kitchen space. Meanwhile, built-in refrigerator cabinets can help to hide the large, awkward structure that helps to keep the food cold in the kitchen, adding aesthetic value to the room. Since the kitchen is one of the places that home buyers value most when opting for a home, this kind of millwork can help you to sell a house faster. We highly recommend custom kitchen cabinetry to all homeowners who are considering selling their houses in the next couple of years.
Source: google
Living room media centers and storage
Custom-built cabinetry, media centers, and custom storage make it possible to hide or keep organized extensive collections of media discs like DVDs. Homeowners can even protect stereos, DVD players, and so on. It builds a quiet space to sit and work when not using home media, making the living room environment more aesthetically pleasing.
Elegant bathroom vanities
The size and structure of the vanity can create a massive difference in a small room like the bathroom. Installing a custom-built bathroom vanity allows you to use your space to the fullest. It makes it easier for you to adjust more stuff in the toilet without letting the area feel congested.
Custom home office and library
Nothing completes the space of libraries or homes like built-in bookshelves and custom-built cabinets. Not only is this type of millwork beautiful, but it's also very functional.