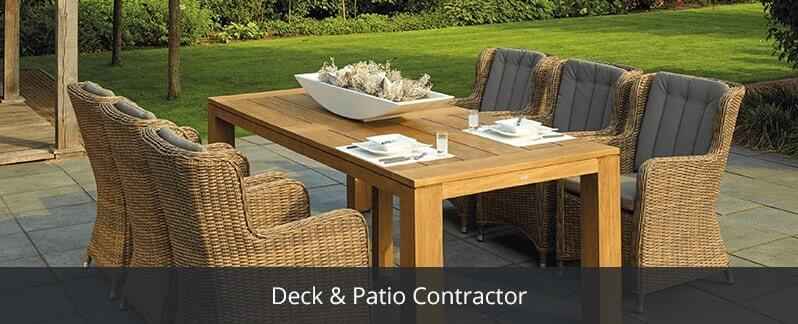 All the elements of the exterior of a great household significance. Decks, fences and patio are one of the most important ones and are the deciding factors for the exterior's ambience. A suitable surface can develop a beautiful and attractive feel of a house. ASASA construction is trusted name in Deck & Patio Service Toronto. Our deck fence and patio service of ASASA construction are top notch just like all our other services. We provide the most reliable installation, maintenance and repair services for all kinds of decks, fences and patios. The scope and scale of our deck, fence and patio service are vast and assists clients in all needs in this regard. Whether you are in need of a skilled deck builder or a patio export to groom your exterior, ASASA construction is the way to go.
Our services are not only very high in quality, but other aspects of our service are also on top. From cost-efficiency to timely delivery and convenience, we tick all the boxes to facilitate clients in the best way possible.

Our deck fence and patio can make the house of your exterior look according to your desires. We pay a lot of attention to detail to deliver excellence in our service with no room for error. The deck fence and patio service of ASASA construction provide a wide range of facilitation, and their detail is given below:

Patio:
ASASA Construction provides the most efficient and convenient services for patio to clients. You can make your patio look according to your demands and desires by availing the services of ASASA construction. Our professionals gather all the requirements from the client initially to prevent any complication during the project. Then a plan is devised to achieve the demands of the client. Brainstorming sessions take place where all the team members and client give inputs.
After assessing all the available resources and options, a final plan is devised that can provide favorable outcomes. No matter what the service is, this systematic approach is implemented during the lifecycle of every service. No matter how much space is available, our professionals can make the maximum utilization of the open space and fulfill all your requirements in the available options.
Source: Pinterest

Landscaping:
ASASA construction provides state of the art patio landscaping service to clients. Our professionals have extensive experience in different patio remodelling techniques. We can provide different sections as well as single patio model as per client's requirements. ASASA construction delivers a charming looking patio through innovative ideas and artistic approach.
Lawns:
We have the most experienced and skilled team that can deliver a beautiful garden for your patio. ASASA construction provides everything under one roof in every service that we offer from irrigation to grading and site clearance, you will have our professionals at your disposal.
Source: Pinterest

Sitting Area:
ASASA construction offers variety if designs for patio sitting area. We can deliver customized sitting areas according to client's requirements. Our professionals can install most stylish and sleek fireplaces that will do wonders to the appearance of your patio.
Fountains:
We also provide highly efficient services for patio fountains. You don't have to go anywhere else because ASASA construction offers every service that is included in fountain installation. We have all the required skill set from interlocking to plumbing work that can ensure the most convenient service for clients.
Deck:
ASASA construction offers a wide range of topnotch services for residential decks. Every deck builder of ASASA construction has years of experience in dealing with all designs and material of decks. Our professionals can build and install customized and stock decks around in ground pools and above ground pools. We offer a variety of deck services to cater to all kinds of requirements from decks around pool to the entryway and folding decks.
Source: Pinterest

Some of our main services are given below:

Pool Decks:
If you need a deck around your pool, ASASA construction is the best choice because we are the masters of this craft. We deal in all kinds of materials of pool decks from wood pool deck to PVC pool deck. For wood pool deck, we ensure that the finishing of the edges and corners is done perfectly to prevent any injuries to the swimmer. ASASA construction provides services for both in ground and above ground pools.
We can build decks around in ground pools as well as above ground pools as per the client's requirements. From above ground pool patio to folding pool decks, our professionals can do it all. Due to our extreme command, the demand of our above ground pool patio is on the rise. If you want a contractor with all the expertise and equipment to deliver you the desired results for pool decks, ASASA construction is your destination.

Entryway Decks:
ASASA construction also provides reliable installation, maintenance and repair services for entryway decks. Our professional team analyzes the requirements of the clients and possible options by visiting the site. We have extensive experience of dealing in different materials for entry decks. Also, our professionals are capable enough to provide entryway decks of any shape and design.
Source: Pinterest

Island and Peninsula Decks:
We deliver the most reliable installation and repair services for island and peninsula decks. The level of expertise of our professionals is the same for both attached and detached decks.
Multi-level Decks:
If you want to build a deck on uneven terrain, ASASA construction can provide you with the assistance through multi-level decks. We can deal with any terrain and slope and come up with ingenious solutions to meet client's requirements.
Source: Pinterest

Fence:
ASASA construction provides highly reliable and durable services for all kinds of fences. Our creative and innovative team can deliver ingenious fencing ideas that can enhance the appearance of your exterior. If you want to fence for security purposes or containment of pets, ASASA construction provides the most appropriate services. Our fencing is durable, long-lasting and requires deficient maintenance.
The fencing that we do is resistant to corrosion or damage and has high endurance against external temperature and weather conditions. We deliver services for different fencing material like metal, wood. In addition to installation services, we also offer high-quality maintenance and repair services.

If you want to learn more about General Contractor in GTA (Greater Toronto Area)