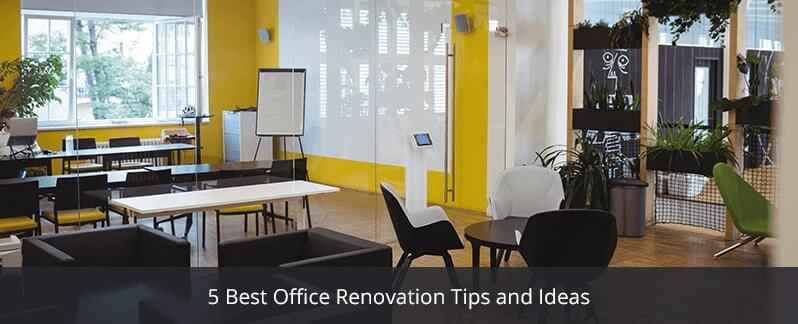 Commercial renovation contractors in Toronto have occupied a vast territory, but finding the right one is genuinely a hustle. Finding the one that does it sleek, quick and gave best home and office renovation tips is like finding a needle in a haystack.
Why Should you Renovate?
The business owner should make sure that the workspace for their employees is safe and enhances productivity. In the latest survey, about 89% of employees admitted that the design of their office does affect their productivity. Almost two-thirds of the respondents also reported working together with co-workers also boosts their efficiency. So make sure that your place makes your employees feel just at home to achieve maximum productivity. If your office hasn't been renovated or you are just running out of space, a remodel can enhance your team's morale and might even help boost your building's resale value.
Source: Pinterest
Are you looking for top-notch commercial renovation services in Toronto? Well, ASASA Construction got you covered, most mesmerizing office designs that are sure to make your visitor's jaw drop.
Here we got a few tips to help you understand yourself the perfect fit.
Go for the Referrals
Referrals are pretty necessary. Wondering why? Well, references are usually recommendations from people or clients who have potentially worked with the contractor in the past. Referrals make it easier for you to filter out the right one for you. You can start by searching online for local contractors around you. Once you find a potential match, visit their website and view the latest projects they have worked on. Try calling a few clients and ask if they can give you a walkover of their new offices. Don't be afraid of asking others about the previous history of the contractor. Gather as much information as you can. By a walkover, you can self-experience the quality of work the contractor is capable of providing. You can also be trying to call your local directory and ask for the list of potential contractors around you. Make sure that you visit their profiles and view their previous projects.
Source: Pinterest
Choose the Consistent One
Generally, people hire contractors after they are ready for renovation and have decided their budget, but the truth is that you should hire them as soon as possible. They will help you to plan everything, so you don't have to stress about it again and again. Go for a contractor who works efficiently and consistently to achieve the maximum results. When renovating
old commercial buildings
choose someone capable of handling and moving with your project from initiation until it gets finished
Source: Pinterest
Communication Is Everything
You should pay daily visits to your site and get regular reports from the contractor to ensure that everything is going as planned. The key is that the more you communicate, the better are the chances that your project will turn out as planned. Secure communication between you and your contractor ensures that the project is sailing smoothly. Immediately notify your contractor in case you decide to make some changes to the initial plan. He should also be in touch with you if any problem arises. Make sure to inform the contractor of the potential changes before he purchases the materials or at least before he starts installing them. Choose a contractor wisely and go for someone loyal to his work.
Source: Pinterest
Know What you are Looking for Before you Interview Your Contractor
Before you start interviewing the potential candidates to do your research. State down why you are looking for an office renovation? You should be able to communicate with your contractor about what needs to be done. Clarify your goals, whether you're reorganizing the office space to accommodate additional personnel, updating your infrastructure system, or creating an open office concept. The contractor needs to understand your final goal. Remember, if you make any changes after the contractor starts working, it might add up to the renovation cost, so plan everything and be clear of what you want.
Source: Pinterest
Do Not Hesitate to Ask Question
The next move is to see proof of liability insurance and worker's compensation coverage. As the insurance companies issue these certifications regularly for their clients to show the evidence of workers' coverage and an authentic renovation company should be able to provide you with one. Although the insurance is paid by the contractor to cover against accidents or injuries at the worksite and if any property damage, it will protect you. If a contractor hesitates to provide these documents, it is probably time to find another one.
Moreover, get answers to the following points:
Financial references from the respective suppliers and banks.
The number of projects they will be working on while simultaneously working on your project.
Get a list of completed projects, particularly those similar in size to your renovation and contact information of the owner.
The commercial renovation process may not be the most fun you will have, but it is necessary to work. The fun part comes when you see the space you envisioned for your company starting to take shape. Walls are constructed, repositioned, or completely torn down. Paint and colors are applied, and floorings are installed. It is when you realize that you and the renovation team have an astonishing place to work and an atmosphere of success and reliability.