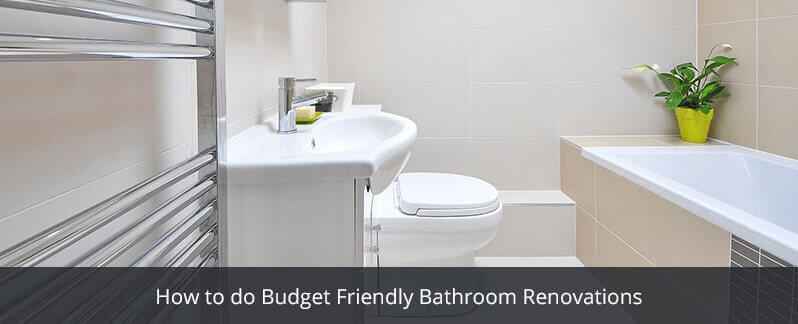 It may not seem possible, but cheap bathroom remodelings are attainable. Popular home remodeling culture makes it appear to seem like bathroom remodeling must cost much, and everything must be torn away and replaced. Bathroom remodeling, along with kitchen remodeling, puts pressure on homeowners in terms of agony, undecided timetables, and relatively high costs. Given the extremely high prices of bathroom remodeling, search for wise and more economical alternatives. After a low-cost and rangy bathroom remodels, not only will you have a clean and functional bathroom, you will also have more money in your bank account than homeowners who went the more expensive, wasteful route.
Source: Pinterest
If you are looking for budgeted bathroom renovation in Toronto, feel free to contact us.
Saving on Counter Tops
A famous trend is to binge on granite countertops. Because the bathroom counter is small, the investment is often fairly low compared to what you would spend on kitchen counters. So how can you save it here? First, have a look at the color scheme. Neutral colors like brown, tan, and light beige are famous, which means they are relatively more expensive. To save money, think, and price out a more extensive range of colors.
Another great way to save a bunch on granite countertops is to buy an imperfect slab. The more visible the imperfection is, the lower the price will be. Be sure that your sink basin will take up a good lot of space, so if the imperfection is located near the sink or faucets, then you won't be able to see it.
Currently, one of the biggest trends in bathroom remodeling is also the one that budget DIYers can easily pull off with style. Using old dressers as sink pedestals are the trend. You cut out the top of the dresser to hold a sink insert, cut into or remove interior drawers as required, and cut holes in the back for the plumbing. These "dresser sinks" can sell out for thousands of bucks in retail stores, but you can easily make your own with an old dresser, some patience, and the right tools.
Source: Pinterest
Place Limited Tiles
The prices of the tiles go high. Especially when you hire a contractor to do them for you. To save money, use a limited number of tile and focus on high-pressure areas like the floor. Alternatively, you can tile one horizontal strip along the wall and paint the rest of them. If you have got your heart set on tile that is aesthetic and expensive, use it as a highlight alongside a cheaper tile. Not only will the aesthetic tiles be more noticeable, but you will save a lot of money.
Small bathroom renovation on a budget is now available in Canada. ASASA Constructions provides high-end bathroom renovation services in Toronto.
Updating Old School Color Schemes
Your burgundy-colored and shamrock green bathroom may have looked great in the 70s, but it is probably past its peak, looking old fashioned currently. Upgrading with a bright and more modern color scheme can make a big difference without paying the cost of a full bathroom renovation. However, unless you're aesthetic with a good eye for home décor, choosing the paint and the color scheme for your bathroom is not as easy as it seems. If you require help to decide on a color scheme, consult a design specialist at a home remodeling company like ASASA construction. A professional can provide you with a bunch of ideas on the best color tones for your particular bathroom space, and how to enforce them into your bathroom remodeling plans effectively.
Source: Pinterest
Bathroom Remodeling-Paint Job
If you do not have enough to spend, then repainting will be the most economical and, perhaps, the most efficient way to give your bathroom a sleek look.
Here's a little warning, though. It is going to take a little more time than you think. Why? Your bathroom might be the smallest room in your house, but you are going to slowly and gently paint around the window, the tub or shower, the toilet, the switch plates, the wall corners, and the floor. It is time-consuming and requires patience, so make sure you have this in mind when planning to renovate.
Another important stuff to take into consideration is moisture. Since mildew and mold develop easily in a bathroom, and temperature and humidity can change often. It is a good idea to invest in high-quality paint with a glistening finish. You might also want to go over the ceiling with special bathroom paint that helps resist the growth of mold.
Instead of Buying New Redo it
Replacing your old shower or tub will be a little costly. Instead, have it relined, which is much economical.
However, do not try this with shower and sink fixtures as it costs more to refinish them than to replace them. Refinishing these fixtures is more costly because very fewer people decide to go for it unless they have vintage pieces, and contractors who offer this service are usually expensive.
Source: Pinterest
For the best budget, bathroom renovation ideas, visit us.
However, let's suppose you do have some vintage bathroom fixtures or an old tub you do not want to get rid of. The good news? You can refinish them yourself if they consist of cast iron, porcelain, or fiberglass. That said, it takes some time and investment. A simple DIY refinishing kit will run you between $95 and $160, but you will also need additional supplies such as a spray gun, sander, face masks, paintbrushes, etc.
Bathroom Remodeling-Going Green with Updates
When upgrading the bathroom, do not forget to redesign taking the environment in your mind. Low-flow toilets, sinks, and showerheads will not only help you conserve water, but they will also save you money. Plus, water-saving showerheads and faucets often cost almost the same to the traditional ones. So you will not have to spend money to save money. Purchasing used materials is also good for the environment.
Furthermore, searching sites like Etsy for upcycled updates, browse for ideas, and do them yourself. For example, it is relatively easy to turn mason canning jars into the soap dispensers. Want another sleek idea? Find three vintage tin cans. Drill the side of the can by the side into a 2-foot piece of an old plank. Then, drill the plank onto the bathroom wall. You now have a cool way to store bathroom essentials like toothpaste, toothbrushes, combs, Q-tips, and hairbrushes. You can even use one can to keep fresh flowers.
Source: Pinterest
New Hardware to Refresh the Cabinets
Purchasing and installing new bathroom cabinets can get pretty expensive. A far easier and economical way to add life to your current cabinets is to rip the old hardware and replace it with the new one. To make the process even smoother, before you buy new hardware, make sure that its screw alignment fits with the holes on your existing cabinets. It eradicates the need to drill new holes.
Apply Wainscot on the Lower Half of Walls
If the bathroom material is still working, fix it up and reuse it. It is the guiding principle of any surface-level renovation. For example, there is no better way to cover up the lower part of walls than with easy-to-install wainscot. Wainscot is a pre-fabricated board that extends as high as 48 inches and eliminates the need to patch wall dings and minor holes; wainscot covers it up.
Following these simple stuff, you are sure to get your self a mesmerizing kitchen within your budget. Extensive research is key. If you can prefer to go DIY, but you need to have the required tools and materials.
If you want to renovate your kitchen then you must read Highest Return on Investment: Kitchen Renovation Projects.