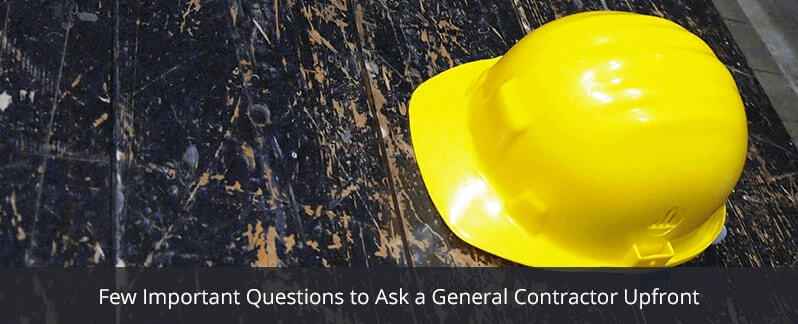 Choosing the right contractor for residential or commercial renovation is tricky. Renovation is not an everyday thing, so you should be picky about it. After all, you are going to pour your hard-earned money into something you love. And I am sure you want it to be perfect. If you do not have proper management, there are chances that you might end up in a disaster. For your contractor, this might be just another job, but for you, it's your home. You are the one paying the contractors. It gives you a right to ask your contractor any question you want from the start till the end. Do not shy out from asking questions, or in the end, you might end up regretting it.
You work hard day and night to save enough for the house renovation. You want the perfect, but for that, you might want to do a little research. There's plenty of companies that provide home construction services in Canada and can give you excellent service at an affordable price.
Can we Sign a Contract?
Source: Pinterest
After you finalize your contractor, the first thing you should do is sign a contract. It is the only legal way that will protect you and your contractor in case of a mishap or a misunderstanding. Just think that you wanted hardwood flooring, but he installed tiles. In this case, the contract will help you if you agreed on a specific price for specific work. Every minute detail should be in the contract to avoid any future disputes to avoid later conflicts. Likewise, if you agreed for hardwood, and later you insist tiles, this will protect the contractor. A contractor who is not willing to sign a contract is not the one you want. Just remember a good contractor should have all his permits in place and is willing to sign a contract.
Can You Define a Timeline For This Project?
It is important as a homeowner for you to know the start and the finishing date of the project. You should discuss all the details and clarify what you want to avoid any conflicts. You are the one paying, so it is your contractor's responsibility to satisfy you. Make sure you ask for a detailed timeline to stay updated about the deadlines of the project. This way, you will be able to oversee everything precisely. You should keep in mind any potential delays that occur due to some reasons. A few additional questions that you can ask related to the timeline are:
Are you working on any other recent projects that can affect our schedule?
How will we address any changes in our timeline?
Do you have any bid that has yet to be finalized and could affect us in any way?
For best Construction services in Toronto contact us at ASASA Construction
How Long Have You Been Working?
Local contractors should be doing top-notch renovations to stay in the market. You will often get to hear about good contractors from your friends or family. If a contractor has been working in your neighborhood for several years, it's a good sign. But remember, its not a guarantee that he will perform quality work. You cant be easily trusting a new business, and they might end up wrecking everything for you. For more accuracy you can even go around in the neighborhood and ask about the contractor. You can get in touch with the people who have already have had experience with the contractor to get additional information on the history of the contractor. By giving the contractor a smaller project you can even start . If you are satisfied with his project management and technical skills, you can move on to something larger.
Source: Pinterest
Do You Have a License?
Different cities and states have different requirements for licenses. You should make sure that your contractors have gone through all legal procedures. And they have obtained a license or certificate relevant to their field. For example, you would not like to hire a carpenter with a license in roof fixing. Having just a business license alone is not sufficient. It allows individuals to engage in business, but it does not mean that they are licensed contractors.
Do you Have Firsthand Experience Related to These Types Of Projects?
It is really important to know what kind of projects your contractor specializes in. It will make it easier to determine whether he is the right candidate for your project. As house renovation happens once in a blue moon, you should make sure that you are choosing the right one. You would not want a disaster to happen after all. After a complete evaluation, you should be able to know if the company can keep up with your demands. Some contractors are good with small scale projects, e.g., kitchen and bath renovations, while some with big scale projects.
Who Can I Contact During the Project?
Communication is a core component for perfect results. You would want the process to go smoothly, and for that, you need to assign clear roles. That's why you should always demand a designated contact person during the whole process. This way, you will be able to address your issues more quickly. It will also help you to stay aware of the whole project's progress. Smooth communication will make sure that everything is happening just the way you wanted it.
Source: Pinterest
Do you Have Insurance?
It is really important to be sure that your contractor is insured. As you're the one paying, you can even ask him for his insurance certificate. Contractors should have both worker's compensation and liability insurance precisely for the job they are performing. By looking at the contract, you will be at rest that you won't be liable in case of accidents at the workplace. If your contractor isn't insured, you might end up paying for any injuries. Make sure that you are hiring the right person for the job.
ASASA Construction is a licensed and insured company that specializes in Home renovations in Toronto.
How Do We Clear Any Misunderstandings?
It is normal to make mistakes or have disagreements between contractors and homeowners. But the question here is, how does he handle the situation? You can ask your contractor about his prior experiences and how he dealt with it. This way, you will have an idea about how he handles disputes. If the contractor admits to having a dispute or two doesn't mean he isn't qualified. As long as he handed it respectfully, he's good to go. Remember, your contractors are human too, and they can make mistakes. But allow him to fix it for you.
ASASA offers great services in kitchen and bath renovations in Oakville. Our excellent communication skills and professionalism is what distinguishes us from other companies. Your satisfaction is our utmost priority.
What Would be my Estimated Budget?
Source: Pinterest
It is a very tough question when we talk about small scale projects, eg. Renovations. Your contractor should not be asking too much money upfront. A well-established contracting business will have the finances to start your project on their own. If you give your contractor too much upfront, there are possibilities that they leave your project unfinished.
Who will be Supervising The Site?
During the process, it is necessary to ask your contractor who will be the responsible person for subcontractors. It is important to know who will work on the site and how they will work. Knowing who will work and how will they manage will make you safer and at ease while choosing the contractor. It will give you an idea about the management skills of the company.
Finding the right contractor can be a hustle. It requires a lot of research and an uphill battle to find the right person for your project. By asking a few straight forward questions, you can make the selection process much simpler for yourself. Communicating with the contractor is necessary so that he knows what you really expect from him. I am sure you do not want your hard-earned money to go down the drain.
But don't worry because ASASA has got you covered. We are the best home renovation contractor in Toronto. We are a trustworthy company that's trusted by many. Contact us for more details.
Let us give you a deep insight into 2021 Roof Replacement Costs Toronto Vs. Montreal