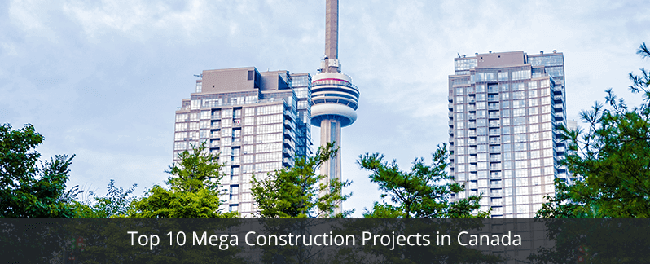 The construction industry of Canada has touched sky high. With several mega projects proposed. Canada aims to capture the world market by being the biggest oil and energy trader in the world. So when it comes to construction, it may seem, the higher the cost. The more interest the development generates from stakeholders and the media. These developments cost more than $1 billion and attract public attention, generally due to community impact and cost. The total construction activity comprises of many small- and medium-sized projects and a limited number of large developments. But the biggest projects, by their nature, can affect total dollar volumes. In other words, the features of these projects have an embellished impact on market forecasts.
KITIMAT CLEAN REFINERY
Project contractor: Kitimat Clean LTD
Project Cost: $22 Billion
Kitimat Clean Ltd. is a private company from British Columbia that was inaugurated in 2012 to plan, construct, and operate a multi-billion oil refinery in Kitimat, BC. KC strives to create a world scale heavy oil refinery and also a marine terminal near Kitimat BC at the cost of $22 billion. So KC anticipates borrowing the $22 billion. $10 billion of this amount was requested to be paid by the Canadian government.
The refinery will process a total of 400,000 barrels per day of pure bitumen from the oil sands region in Alberta. Railways' job is to deliver bitumen in solid form to the site. Bitumen processed into fuel products (gasoline, jet fuel, and diesel fuel) will primarily be for export purposes. So the construction of the marine terminal is near Kitimat on the Douglas Channel. Kitimat Clean has a strong business case. The ROI for the entire project will be 9%. Within ten years, once operations begin, Canada will enjoy the perks of being a loan-free country.
The refinery will also drain 400,000 barrels per day of bitumen from Alberta that is at risk of being landlocked. It is advantages, but changing the North American supply & demand situation. Which will have the more positive effect of moderating the $25 billion per year of existing sales discounts on all oil exported to US refineries. Freeing up more profit for the business and more income tax for governments.
The Advantages Include:
The refinery is going to be the large consumer of BC's surplus natural gas. Which will help boost BC's economy in the northeast
Before export, the bitumen will be refined, any risk of a supertanker spill of bitumen will be eliminated. Shipping gasoline, jet fuel, and diesel are much safer from an environmental point of view, since, while still toxic, these fuels all float and evaporate easily
Here will be billions of dollars each year in economic spinoffs. The incoming taxes will help reduce government deficits and provide funds for social purposes.
Source:
Pinterest
THE FRONTIER OIL SANDS MINE PROJECT
Project contractor: Teck Resources LTD
Project Cost: $20 Billion
Teck Resources Limited proposes the Frontier Oil Sands Mine Project. So it includes the construction, operation, and reclamation of oil sands surface mine with a production capacity of about 260,000 barrels per day of bitumen. The base of this project in northeastern Alberta, approximately 110 kilometers north of Fort McMurray. So it is a truck and shovel mine project which comprises of two open pits, an ore preparation plant, tailings preparation, a bitumen processing plant and management facilities, cogeneration facilities, support utilities, disposal and storage areas, a fish habitat compensation lake, river water intake, bridge, roads, airfield, and camp.
The estimated project area is over 24,000 hectares. So if the project is approved, the proposed project will operate for 41 years. So if it gets approval, the Frontier project will directly employ up to 7,000 workers during construction and up to 2,600 workers during operation. Hence according to an estimate, Frontier will contribute approximately $55 billion in provincial royalties and taxes. And an estimated $12 billion in federal income and capital taxes.
EAGLE SPIRIT OIL REFINERY AND PIPELINE
Project Contractor: Aquilini Investment Group LTD
Project Cost: $14 billion
It has become more than an oil pipeline and is now a full-fledged plan for a corridor involving potential boosters, four 48-inch pipelines (2 crude oil and 2 NGL pipelines) plus a chance for a petrochemical plant to export a higher value product. A core element of this project is to seek NEB approval under the new process for the entire project rather than separate approvals for each component. There is a wide variety of shared services that make the Corridor much more economical. It is an opportunity to twist Northern BC and Alberta into a green energy development zone. The Eagle Spirit corridor route will go all the way from Fort McMurray Alberta to the Grassy Point port in less than 10 minutes to open water.
The Corridor is in territories where it has found First Nations support. Eagle Spirit Energy's crude oil pipeline would carry medium to heavy crude without condensate. Which will satisfy critics who say diluted bitumen would be much harder to clean up than crude oil after a spill. Eagle Spirit Energy CEO Calvin Helin says 35 First Nations supported the pipeline because it wouldn't carry diluted bitumen and that this robust support, along with the fact that the risk rating for shipping from the port near Prince Rupert is very low, means the project has excellent chances for regulatory approval.
GOLDBORO LNG – LIQUEFIED NATURAL GAS EXPORT

Project Contractor: Pieridae Energy Canada
Project Cost: $10 Billion
Goldboro LNG will comprise of a natural gas liquefaction plant and facilities for storage and export of LNG. So it will include a marine jetty for loading purposes. The facility is foreseen to produce approximately ten million metric tonnes of LNG per year and has an on-site storage capacity of 690,000 cubic meters of LNG. So the facility is bordering with the Maritimes & Northeast Pipeline, a 1,400-kilometre transmission pipeline system constructed to transport natural gas between Nova Scotia, the northeastern United States, and Atlantic Canada.
PROJECT ADVANTAGES
Goldboro LNG will build significant direct and indirect economic benefits for the society, region, and the natural gas industry.
REGIONAL ECONOMIC BENEFITS
Jobs and training in the society and the region
Construction phase: up to 3,500 job opportunities at Goldboro site
Ongoing operation and maintenance: up to 200 job opportunities
Opportunities for local sub-contracts, manufacture, and supply of equipment
Use of local personnel, goods, and services
Diverse resident economy
General community projects such as education, arts and culture projects
Heightened municipal and provincial tax revenue generation.
LOCAL ENERGY RESOURCES DEVELOPMENT
The development of Goldboro LNG in Nova Scotia project will create:
A supplemental export market for the natural gas
Additional government royalty revenue generation.
A major boost to the Nova Scotian and regional economy
All of these set up an opportunity for the energy industry to develop additional natural gas energy.
Pacific Future Energy Refinery Project
Project Contractor: Pacific Future Energy
Project Cost: $10 Billion
Pacific Future Energy Corporation is aiming the construction and operation of an oil refinery located on Dubose Flats, 32 kilometers north of Kitimat, in the northwest of British Columbia. The Pacific Future Energy Refinery would be competent in refining 200,000 barrels per day of NEATBITTM. The project has a life of at least 60 years. The project would consist of a new railway yard with seven tracks and a total track length of 20.9 kilometers and have a petroleum storage capacity of 860,043 m3.
First Nations First:
Recognize and respect First Nations' rights and the decisions governments and procedures. Aim to co-operate the project with First Nations, and will proceed with the project only if they welcome and support us.
Environmental stewardship:
Feedstock a safe and non-toxic form of bitumen (NEATBIT™) brought in by rail and turned into top-notch fuels in a Near Zero Net Carbon refinery. No big bitumen or heavy crude-oil tankers, refined fuels, and smaller vessels. At the refinery, the use of crystal clean energy, the biggest amount of water recycling and treatment, maximum restoration of carbon dioxide, and the capture of carbon through different mechanisms.
Economic Perks:
The Asian Development Bank forecasts that Asia-Pacific nations are willing to increase their energy needs by 67% by 2035. Hence increasing the demand in the market. As for the benefits, by refining bitumen on Canada's West Coast, we will keep money at home, to help pay for education, healthcare, and other public services, to provide long-term jobs, and to export less in jobs and value to other countries.
Source:
Pinterest
SINOCAN GLOBAL – BITUMEN UPGRADING AND PETROCHEMICAL FACILITY
Project Contractor: Teedrum Inc
Project Cost: $8.5 Billion
SinoCan Global, Sinopec, China Construction, and Teedrum have disclosed a proposal to develop a bitumen upgrading and petrochemical refining facility in Alberta, Canada. Making in use of almost 167,000 barrels of diluted bitumen daily, so the facility will create a wide range of products for domestic consumption and export markets. The products are to be distributed across Canada, and the US will include gasoline, jet fuel, diesel fuel, and basic chemicals. It will also help to generate revenue to support social and economic initiatives in indigenous communities. Sinopec and China Construction will provide expertise and investment required to create the facility. Edmonton-based firm Teedrum will partner up with the Alberta First Nations Energy Centre (AFNEC) and is responsible for the project development.
Bay du Nord Development Project
Project Contractor: Husky Energy
Project Cost: $6.8 Billion
Equinor (formerly known as Statoil Canada Ltd.), in cooperation with Husky Oil Operations Limited, is proposing to install and run a floating offshore oil and gas production facility in the Flemish Pass, approximately 450 kilometers east of St. John's, Newfoundland and Labrador, into the Atlantic Ocean. So as projected, the Bay du Nord Development Project would be in function for almost 30 years, with the potential for the additional wells and tie-backs to the production facility. Hence the development plan comprises the drilling of between ten and 30 wells using five to ten subsea templates. The drilling program will consist of over three to five years. The drilling is predicted to take place using either a semi-submersible drilling unit or a drillship.
Source:
Pinterest
WEST COAST OLEFINS ETHYLENE PRODUCTION PLANT
Project Contractor: West Coast Olefin LTD
Project Cost: $5.6 Billion
The ethylene plant would consist of as much as $2.8 billion worth of construction, and, on the current schedule. The work should last from spring 2021 to summer 2023 and can generate 2,000 to 3,000 jobs. Once it completes, it would employ 140 to 180 employees directly and 25 to 50 contract employees during the commercial operation. And have an initial lifespan of about 25 years. Ethylene will be supplied to adjacent the ethylene derivatives plant at the BCR to produce polyethylene. Essentially plastic in pellet form – and possibly mono-ethylene glycol – used as antifreeze and heat transfer fluid – for export to Asia.
Fifty percent of the world market for ethylene glycol and polyethylene is Asia. And hence they're the fastest-growing markets. So they're going to make up an even larger proportion as the future unfolds. So Prince George offers the most cost-effective production site in North America. Hence the future development schemes for the Bay du Nord project aim to expand the core life of the field to a max of thirty years. Potential development strategy includes the drilling of an additional twenty development wells. Installation of almost five subsea templates and, drilling of satellite wells.
Source:
Pinterest
KITSAULT ENERGY LNG PROJECT
Project Contractor: Kitsault Energy
Kitsault located almost 800 km north of Vancouver, British Columbia, and 115 km north of Prince Rupert, British Columbia, Canada. So it is a multi-purpose resource community with sleek community infrastructure and housing for nearly 1,000 residents. With almost 350 acres of industrial and residential land, full B.C. Deepwater for a port and Hydro service, Kitsault gets both economic and environmental sense as the preferred location to be the Liquefied Natural Gas (LNG) terminal site for the export from northeast British Columbia to Asia and other markets. Others have already proposed a Natural Gas pipeline routing to Kitsault.
Kitsault has got many advantages like a dedicated energy corridor, based on the following:
Kitsault is the nearest to the natural gas enriched northeast of British Columbia, Canada, and the northwest of Alberta, to establish a Dedicated Energy Corridor and an Export Terminal.
It has got the infrastructure with 90 houses (three bedrooms and a basement) and 150 condos (2 & 3 bedrooms) housing nearly 1000 residents, along with the necessary recreation center, medical clinic, shopping centers, post office, banks, restaurants, supermarkets, etc.
It has a full British Columbia Hydro Power service to the entire townsite.
It's accessible by road, water, multiple airports, helicopters, floatplanes, water taxi, etc.
Kitsault has a deep saltwater waterway for navigation of Tankers, barges, ships, etc.
PIKE 1 IN-SITU PROJECT
Project Contractor: Canadian Natural
Resources LTD
All through the northern half of Alberta, there are various Steam Assisted Gravity Drainage (SAGD) In-Situ projects on small and very large scales. So It is required to meet the appropriate environmental noise criteria from the Alberta Energy Regulator (AER) Directive 038 and the Alberta Utilities Commission Rule 012.
Within the last 15 years, ACI has worked on over 100 SAGD and In-Situ related noise projects. For every project, a computer noise model is generated based on the proposed site layout, noise-producing equipment, tanks, buildings, well-pad configuration, and area topography. Besides, if required, noise contributions from other nearby facilities are comprised.
ACI has a g library of SAGD and In-Situ related noise origin for equipment. Once-Through Steam Generators (OTSGs), aerial coolers, compressors, well-pad piping, etc. So it has conducted many post-commissioning noise studies to verify noise modeling results.
For more read, Construction Trends in Canada Over the Years