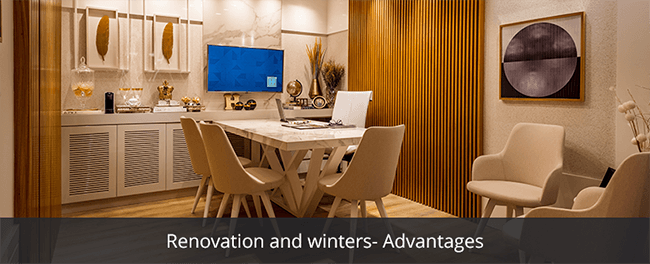 Renovation in winters sounds non-viable, right? Disregard of the season, you want your home to feel like home comfortable, safe and inviting. After all, you struggle all day at work so that you can enjoy the time spent when you finally get home. Your home is your ultimate castle, and you spend the most time here. So, making your house more comfortable and alluring is an exciting task. However, many of us are uptight about the expense and all the time and effort it takes to complete these projects. There are a few advantages of renovating your house in winter, let's have a look:

1. Renovation in Winters Leads to Convenient Project Schedule
It is usually a lot easier for contractors to schedule work in winter months. Especially if painting, floor replacement, updating lighting, and plumbing are involved because there is a lot less exterior work performed. It will space up a contractor's schedule for interior jobs such as painting, floor replacement, drywall repairing, updating lighting, and cabinetry replacement. So it is more feasible to engage a good contractor for your upgrades by initiating renovation in winter.
Source: pinterest

If you are Looking for the best interior renovation in Toronto feel free to check us out.

2. Renovation in Winters Ensures Availability of the Contractor
During the winter, you may discover that your contractor may have more than enough time to work with you in the planning and designing of your project. It would be a good time for purifying the details before the work starts. This process may take longer as work paces up for your contractor in the springtime with outdoor projects.
3. Avoiding Manufacturer Spring Price Increases
Now is the right time to search for and take advantage of lowered prices. If you are thinking of remodeling your home, you may find sell-out prices on appliances and be able to acquire materials before manufacturers increase costs. Commonly, we experience price hikes for windows, lumber products, and cabinet lines in the springtime. During the winter, manufacturers may have crowd-pulling offers to decrease the stock. Renovation in winters can help you save your money.
4. Cleaning-up
While some homeowners will wait until springtime to remodel because you have to deal with fumes, dust, and areas for staging the work, prevailing technologies and clean-up methods do control these issues. Fans with plastic doors, negative pressure, and sealing off heat ducts with a filter will accumulate debris, dust, and fumes to the work area. Cleaning and venting in winters can be exhausting, with a risk of you getting sick.
Source: pinterest

5. Outdoor Jobs
If the weather collaborates, you may be able to work with your contractor on outside jobs to get ready for springtime. While we would not recommend outside painting during the winter, we have built decks, porches, and additions for our customers in winter. The exterior renovation costs in winters can be relatively higher.
6. Permit Approving is Another Perk of Renovation in Winters
Same to the availability of contractors during the peak season, summer and spring are often busy times for government departments. It means that getting a permit approval to begin a home renovation job may involve a slow-paced process as majority offices are dealing with the backlog of the activity during this time. So winter is an optimal time to efficiently gain all the required permits for your project without the danger of any problems that delay the start.
It might be enticing to hide under the blankets when the cold hits, but winter comes with different benefits if you are planning to clean up your house. This season not only provides a list of available contractors who are ready to take up the projects, but it also eases out for obtaining the project permits from the departments. It is also a great time where you can take a holiday with your family during renovations in progress. It will allow you to avoid the outrage that comes during the remodeling procedure, all while enjoying an enticing time catching up with your family. Furthermore, you can expect a happy surprise at home when going back from your trip. See, you can take full benefit by planning your next renovation in winters.

7. Vacation Time
If you are planning to go on a vacation this winter, it may be a prime time to have work done in your home to avoid the disturbance of your everyday activities. Just like you, trade people and suppliers like to go on a vacation in the summertime to take advantage of the warm weather. In Calgary, during July and August, this can mean that there are up to 30% fewer construction trades available to do your job. It will typically have a sufficient impact on the timeline of your project, and can even result in possible delays. For example, your kitchen renovation might stall while you are waiting for the plumber to return from his family vacation.
Source: Pinterest

8. The Weather
Many people evade organizing projects in the winter because they think construction workers do not like working in the cold weather. We had a discussion with one of the workers in this regard. He said it mostly implements on outdoor projects; however, customers seem worried about my health even if I am cutting wood outside during a bathroom remodeling task in winter. I am here to tell you that many people I work with, including myself, actually prefer working in the cold weather as opposed to the oppressive heat during the summer. Physical work is much unsafer on a 90-degree day versus a swift 20-degree in winter. We do not mind working in the cold; many of us prefer to work on a hot day. Renovation in winters is also convenient for labor.
Even though you can take leverage of discounts and availability during the colder season, there's no point in taking on a high-dollar job if you are not ready. The best time for renovation is when you have fully defined the scope of your project.

How to Choose the Right Contractor?
Choosing the right contractor is a type of matchmaking process. You will want to make sure your contractor has the same standards of quality, experienced in the type of job you need, and can work within the timeframe you have. Some services do make the match between contractor and client. When reviewing potential contractors, start by looking for someone with experience in your neighborhood and who has done similar work. It can help you to diminish the field from thousands of general contractors to just a selection of experienced professionals."
Here are the questions recommended for consumers to ask potential contractors during the auditing process:

Have they worked around your neighborhood?

Have they done identical work to what you want to get done?
Can they provide references and photos of previous projects?
Do they have a license? (Working with an unlicensed contractor is not worth compromising)
If you are looking for sleek licensed contractors in Toronto, ASASA Construction is your choice for the best.
Source: Pinterest

So, how does it work? After the initial communication with a contractor, you should be sure that the contractor's communication style jives with your own, that you feel comfortable discussing concerns and ideas, and that they respond in a reasonable amount of time.

One of the hardest jobs will be ensuring that the contractor can truly deliver on your perspective for the project. One indication, Good contractors, have amazing ideas. Spend some time tossing ideas around to make sure they understand what you want. Try to ascertain whether he (or she) is just telling you what you want to hear versus having a plan for the renovation that is in line with what you had envisioned or are open.

Let us give you a deep insight into 2021 Roof Replacement Costs Toronto Vs. Montreal.