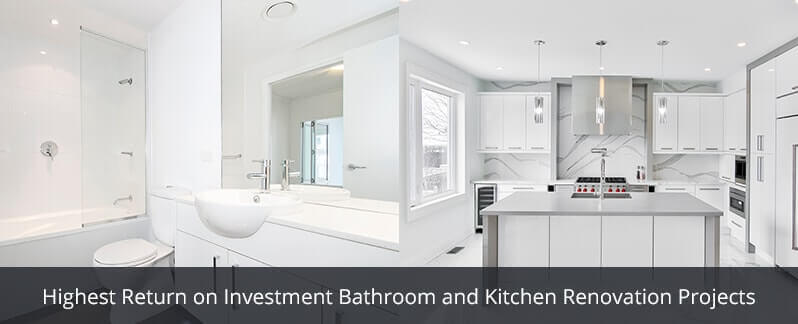 According to renovation contractors in Toronto, a kitchen renovation can be pretty fun and excited. With a little research and knowledge, you are sure to get the home you desire. There are many reasons to renovate your house: Upgrading it according to your taste, adding space and functionality, and the most important one increasing the value of your home. Now the question arises here. Are you putting your hard-earned money in the right place? When it comes to renovation, smaller projects that add an aesthetic appeal and functionality are the ones that are the real catch. Here we have a list of a few projects that will have a significant impact on your homes and a higher return on investment.
Source: Google

We are known to be the best kitchen and bathroom remodeling contractors in Toronto. We aim, we plan, and we achieve, and that's what makes us stand out. For more info, visit ASASA Construction.

Convert your Cabinets:
Kitchen Renovation-Paint Cabinets
If your cabinets look old and rusty, it's a great idea to paint them. Painting your cabinets is pretty easy and can be done by anyone. All you need is some paint and brushes that are readily available in any nearby hardware store. Mixed up colors on upper and lower cabinets or cabinets and island are sure to add richness to your cabinets. Painting your kitchen cabinets can modify the look without going for a complete kitchen renovation.
Adding Uplighting or Task Lighting
Installing lights on the cabinets is not just an improvement, but it can also add a glow in the kitchen, especially if you go for a multi-directional approach. The most economical way is to go for energy-efficient LED lights.
Source: Google

Adding Glass Door Inserts
According to glass door inserts refacing costs about 20% of what replacing them would costs. It is a cost-effective project that can be done quickly over the weekend without having to lose the use of the kitchen. There are a variety of options besides plain clear glass: you can opt from etched, fluted, crackled, colored, or patterned glass and set off your new look with interior cabinet lighting. For more kitchen renovation ideas and free consultation, visit us.
Adding a Lid-Storage
Pots and lids make a great couple when they are on the stove, but when they are inside the cabinets, not so much. The best way is to get a handle on the havoc and make it more functional by placing them on the door with a minimalist rack.
Swapping the Sink
Some sink styles are forever, like stainless steel. Trends constantly emerge in sink designs and in how well homeowners blend sinks into their kitchens. If you are thinking of completely replacing the kitchen sink, here are some trends to remember:
Two Sinks can be Better than One
Several builders are including two kitchen sinks in the new homes. The design enhances workflow, allowing one sink to work for food preparation and the second for cleanup. A usual arrangement is to have one sink in the kitchen island and the second in the wall-hugging.
Source: Google

Stainless Steel Lasts Longer
Stainless is the most famous sink material, according to the National Kitchen and Bath Association. In terms of durability, it is hard to beat stainless steel. Besides, the finish blends well with any kitchen design theme, especially if you also have stainless steel appliances. There are a variety of options available in the market like Sterling's Ludington series offer deep basins, single- or double-basin styles, under-mount installation, and Silent Shield sound-absorbing technology.
Are you looking for the best remodeling contractors in Toronto? Well, we got you covered. We are known to be the best kitchen and bathroom remodel contractors throughout GTA.

Subtle and Stunning
Under mount-sinks only work well with solid surface countertops such as granite, marble or quartz, and attach under the countertop. Under-mount design lets the countertops to shine, and also makes it easier to keep the countertop area around the sink cleaner. Sinks with apron-front designs call for attention to the sink and showcases the beauty of the stainless steel.
Adding New Fixtures
Adding new fixtures assures an increased resale value. It is another way to modernize the look of your kitchen. Replace the outdated fixtures. A pull-down design gives you versatility and convenience combined with added luxury.
Source: Google

Kitchen Renovation-A Sleek Coat of Paint:
Paint is known to be one of the most important tools for any house owner. It can transform the look and feel of the kitchen within several strokes of a brush. Not only can it transform how the kitchen looks for the better, but it can also greatly enhances the look of your home. Below are some ways you can use new paint color to increase the value of your home.
Paint your Kitchen Cabinets:
If your cabinets look a little outdated and need a fresh look, you might want to paint them if you do not have the budget to replace them completely. It will need a lot of hard work, but the end will be just awesome. Anyone can add a coat of paint if they have the time and the right tools.
Our experts brainstorm kitchen renovation ideas and bring them right for you. We assure the best-renovated bathrooms in GTA.

Picking a Neutral Colors:
Some people find neutral colors simply dull. However, they can also help you to make money. Painting the kitchen with a neutral color will boost the value of your home and will appeal to more people. If you feel like you are missing out on color, blend it with accent pillows.
Source: Google

Painting your Trim Glossy White:
A bit of glossy white can go a long way. Many people mostly focus on the walls. However, the trim gets dirty and scuffed with time. Give the kitchen a new look without much effort or energy by giving your trim a fresh new coat of white paint.
New Lights:
Kitchen lighting is also often neglected during a kitchen renovation, and we all know that kitchens help to sell homes. Most people who spent a lot of money to either completely remodel their kitchens or gave it a facelift, and they do not think about the lights. Not only can kitchen lighting enhances home value, but you may be able to use lighting as the main focus to enhance an existing kitchen economically.
Double sinks:
Two is always better than one, at least when it comes to your bathroom and kitchen. If you have a master bathroom and kitchen with spare space installing double sinks will greatly enhance the livability, comfort, and attractiveness.
With planning and research, you can surely get the kitchen and bathroom that you always wanted. Make sure you have beforehand knowledge so that you can go for sleek renovations without exceeding your budget.

If you want to upgrade your kitchen or bathroom then you must read: Save Money on Trendy Countertops for Kitchen & Bathroom.