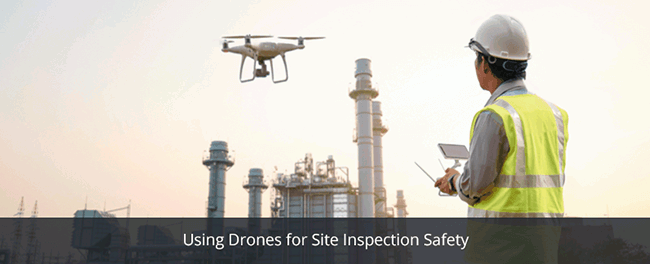 These drones or Unmanned aerial vehicles are widening the possibilities for almost every other industry. According to commercial renovation contractors in Toronto, these airborne robots can perform the jobs that were once dependent on human labor and heavy equipment. But they also help mitigate the safety issues associated with high-risk jobs in the construction sector. These aerial drones can be piloted remotely using your smartphones, tablets, or even augmented reality (AR) glasses – but not many companies fully understand their workplace capabilities. In this blog, we assure you that Using Drones for Sight Inspection Safety is very important.

Increasingly, forward-thinking organizations are using drones to improve their workplace safety in high-risk areas and help them to enhance their productivity. With GPS tracking, high-resolution cameras, and flight support features on-board most drones; they have become more and more accessible for business use.

One key use of drone safety technology is in commercial renovation services in Toronto that yield a huge profit. A study that was published by the Journal of Information Technology in Construction has shown that utilizing a combination of drone and an iPad to see safety hazards is thought to be more accurate and can take up to 100 times more observations than a safety manager walking around the site and in lesser time. While the cost of buying and setting up a drone may differ in some companies – an expert level drone and iPad package might costs around CAD 3,000 – the improvement in safety inspection capabilities assures rapid return on investment. It also builds opportunities to fasten the process, as images can be sent back to a television screen in the worksite office in real-time, so office personnel can carry out the inspections from their desk.

What Is a Visual Site Inspection and Why Is It Important?
Visual site inspection is what it sounds like: a careful, thorough review with the naked eye of every single part of a construction site. In the drone in section, the inspector will use drones camera as his eyes and monitor the activities at a construction site. The visual data is then collected and reviewed later by the on-site inspector. For example, when an inspector is inspecting a cell phone tower, he needs to climb up al the way to the top of the tower looking for places that might need repairing. Visual inspections are important to ensure that the company's assets are properly being maintained. It is much cheaper to replace a couple of rivets on a tower rather than building a whole new tower.

Visual inspection saves money and lives simultaneously. Isn't it great? Like in the case of a pressure vessel, a visual inspection can help disclose the areas that might need to be fixed if not addressed on time; they can cause life-threatening damage putting the lives of everyone at stake.

Technology That's Really Taken Off
In the past few years, the general public's perception of drones has just been centered on only their military applications. But commercial utilization of the technology is now on the peak. We performed an analysis that shows that in 2017, the global commercial drone market was worth 4.72 billion CAD, with almost three million units being shipped. By 2022, the market value could get as high as CAD 19 bn, with over 15 million units shipped to be used.

This spike is the result of growing recreational, business, and research uses. It is now common for the top commercial construction companies in Toronto to capture aerial footage of homes, for example, while conservationists use them to monitor wildlife. And who has not contemplated the thought of a journey in an unmanned drone taxi?

Cutting Costs in Infrastructure Maintenance with UAV
Oil rigs, antennae, or chimney – a company's huge infrastructure assets are usually remote and hard to survey. It makes the tried-and-tested way of manual maintenance inspection an expensive, time-consuming, and sometimes even a very life-threatening procedure.

But with drones, it is not this way. The principle is simple to understand instead of a technician climbing up the chimney or wind turbine, simply use a drone armed with a camera to bounce the footage to an experienced inspector? You can also fit the device with advanced visual and data analytics software and let it assess the asset's status and maintenance requirements by its self.

Drones can access hard-to-reach places quicker, cheaper, and with less danger than manual inspections, and it also allows your assets to stay in shape and lowers commercial renovation costs in Toronto. Maybe one day, you will also be able to carry out maintenance.

A simple and cost-effective business solution
Cost pressure is a growing concern amongst the asset operators and industrial services companies. Drone-based asset inspection offers a new way to enhance the cost and time savings, increases the performance and quality, and therefore provides you with an edge.

The commercial industry has already realized the potential for drones to inspect the construction sites. If video is combined with advanced image recognition technology and automated data analysis, drones provide more accurate results as compared to humans. The cut the inspection time, allowing operations to run smoothly.

Based on this success rate, the industry has started to extend its use of drone asset inspection to other infrastructures, such as plant chimneys. It is hard to figure out the exact savings drones have to offer, but we learned the potential is huge.

Why now is the Time to Move
The potential of drone inspections is clear, and it is worth considering as with any new technology and the challenges they pose. This new market is highly fragmented, with the few established providers pitted against startups and all entertaining various different hardware, software, and service supervision models such as DJI, robotics, parrot, and much more.

Such challenges also bring great opportunities and demonstrate that a sector can still be shaped by the bigger players. Now the companies will be able to work closely with the technology pioneers to overcome the hurdles such as limited battery lives, assist in the formulation of regulations, and to secure a competitive edge by being the first one to make savings from drone-backed asset maintenance system.

Different Types of Drones



The DJI Inspire
This DJI inspires a drone with a bunch of advantages for professionals inspectors. This drone is designed in a way that works perfectly well for many tools required for inspection procedures. Its professional zenmuse camera systems including zenmuse XT thermal and zenmuse X5 for 3D mapping.

It is sold as a part of a thermal imaging company FLIR's aerial thermal imaging kits ready to go solutions that provide the tools and platform needed to provide thermal imaging for clients. These Thermal imaging tools are needed for many kinds of inspections, including building roofing inspections, solar inspections, and utility inspections.

The Matrice Enterprise Drones
Considered to be DJI's enterprise solution matrice pro is a durable and easily portable drone designed for the commercial industry. This drone is a part of Precision hawks' precision construction package. It is a competitive edge solution for the construction industry, which includes drones, software, sensors, processing, and app to deliver the data required during construction. The matrice 200 series is a high performance and weather-resistant drone optimized for inspections applications, including bridges, wind turbines, and power lines. This platform lets a third-party integration of sensors such as LiDAR scanner or for customized mobile.

Intel/AscTec Falcon 8L:
When intel purchased the European manufacturer ascending technologies, they got the sense and avoided the technologies that the two companies had been working together on but an established fleet of well-engineered professional and research drones. The new falcon eight and Flacon 8+ give the professionals the benefits of both company's strengths. The intel falcon 8+ is not for hobbyist flyers but is built to handle all kinds of conditions. It offers full electronic system redundancy and a triple-redundant autopilot top compensate for any hardware failure or external factors like strong winds and electromagnetic fields.
The inspection pro package is necessary for inspection experts. It also includes thermal and digital cameras, independent camera control for a second cameraman and video goggles. This is a must in your Commercial building renovation checklist.

Lockheed Indago 2
It is leading military-type drone technology, but the drones like these provide endurance for the civilians as well. The drone is available with payload options and advanced ground control software that is helpful for agriculture, fire fighting, first response and mapping, and surveying and inspections. The drone has the ability to take detailed images from 300 ft away, which eliminates the risk of shutting down the whole system in order for inspections. And rugged construction allows the use of all weather conditions.
Aeryon Skyranger