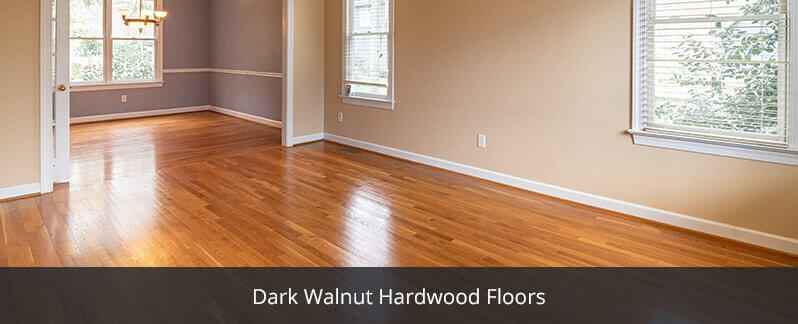 Hardwood floors are the most popular form of flooring which keeps growing in popularity. It creates a scenario that tends to go with anything from white cabinets to dark furniture. That is why dark hardwood is fresh toned, so it goes with cool and warm paint colors. So, if you are searching for a color that is both stylish and is current with any design trend you should keep in mind that if you install hardwood flooring, you will have to redo it after 10 to 15 years. If you require more information regarding hardwood flooring, then our complete guide to the hardwood floor and installation can help you out.
You know how important natural color is when it comes to Walnut. When you are in search of dark colors or want to decrease the gap of light-colored sapwood, consider a reliable source. Dark walnut hardwood will outperform all others in the market. It is a popular selection for homeowners based in the Greater Toronto area. Walnut floors are the show stoppers and fabulous with its fantastic grains and color.
Dark Walnut hardwood floor's color can range from pale brown to dark chocolate brown, and purple or reddish cast adds to its warmness. The planks of walnut hardwood can be typically straight or curly in some beautiful boards. Walnut hardwood is one of the most attractive woods in the world. Its most popular range is American Black walnut flooring. Walnut engineered flooring is cost-effective and easy to install. The engineered walnut flooring has more outstanding firmness than solid walnut floors.
Walnut Hardwood Floors
It is one of the unique hardwood flooring choices. Walnut hardwood is a soft domestic type of hardwood flooring, and its natural colors tend to hide dents and scratches. This is one of the highest quality of North American hardwoods. Walnut hardwood is softer than red oak, and it is weighty, hard, and rigid and has impressive dimensional stability.
Dark Walnut hardwood is moderately dense but very strong with excellent shock resistance. It is the most durable of domestic and commercial woods. Walnut hardwood stands at almost 10/10 on the hardness scale which is one of the softest North American flooring species. Dark Walnut hardwood's color is impossible to replicate on any other types of wood. It has a massive variety of colors, which is a remarkable appeal.
Types of Walnut Hardwood
Walnut hardwood has three types.
Brazilian Walnut
Source: Pinterest

Brazilian Walnut hardwood has a dark and exotic look which appears fantastic in homes. It has a tremendous 3680psi on the hardness scale, which makes it one of the most durable hardwoods available on the market.
American Walnut
Source: Pinterest

American Walnut is also called royal walnut in some commercial shops. It has a hardness of almost 1050psi which is relatively low than Brazilian and Asian Walnut hardwood. The biggest bonus of American Walnut is that it is easily available in most flooring outlets all over the American and Canada.
Asian Walnut
Source: Pinterest

Asian walnut hardwood has a density of 0.9g/cm3. It has a hardness of 2250psi which is relatively hard than American Walnut. Asian Walnut is perfect for those who have a lot of foot traffic and pets in their homes. It is costly relative Brazilian Walnut because it is imported from China.
Top Consideration for Walnut Hardwood Flooring
First of all, you have to decide your budget for Walnut hardwood floor. Your budget may bound your choices and the available species of Walnut hardwood that could be install. For example, Brazilian Walnut hardwood is expensive than American Walnut hardwood when used for flooring.
You have to choose between finished and unfinished Walnut hardwood flooring. For example, finished Walnut hardwood flooring is more durable and long-lasting.
You have to pick the style of your flooring between plank, strip or parquet layouts. Wide plank walnut hardwood flooring is the best choice because it can cover a larger area. It also saves time and money during installation.
You could select the type of Walnut such as American Walnut hardwood, Asian Walnut hardwood, and Brazilian Walnut hardwood. You can pick the type that fits your specific needs.
Once you finalize your options, you should contact flooring service providers such as ASASA Construction which provides excellent flooring and construction services. They will provide you with FREE cost estimation and consultation.
source: Pinterest

Conclusion
Dark Walnut hardwood flooring is one of the top flooring types used in outdoors and homes. It is primarily well-suited to our climate here in Greater Toronto. Are you searching for more information to make a flooring decision? ASASA Construction will help you choose the right hardwood flooring for your lifestyle. For more kitchen renovation ideas read Custom Kitchen Cabinets & Renovation Ideas [Materials & Prices for 2021]