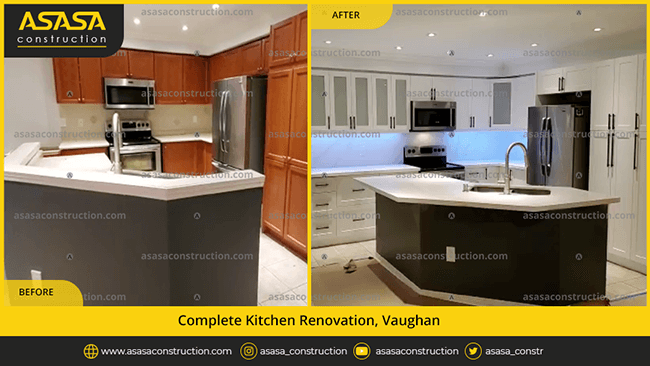 Why Renovate The Kitchen?
One of the critical reasons for Kitchen renovation in Vaughn was to bring positive lifestyle changes; the survey found homeowners are willing to spend a fortune on their kitchen renovation. A considerable number of homeowners are not updating their kitchen to increase the value of their house. Only 9 percent of homeowners surveyed renovated the kitchens just to increase the value of their homes. Simply, most homeowners renovate to improve their lives.
Source: Pinterest
If you plan on keeping your kitchen renovation on hold, here are some reasons to renovate your kitchen:
Increased Family Time:
An outstanding 50 percent of homeowners renovated their kitchens to encourage more family time. Having a welcoming space to cook and eat meals can bring the entire family together. You will spend less time waiting on the table at a restaurant and can spend more time enjoying it together.
Encourage Homemade Meals:
It is known that home-cooked meals are generally healthier than the meals at the restaurant. Enhanced counter space, new appliances, and a more appealing kitchen make people want to stay home and prepare food. 42 percent of the people renovated their kitchen to encourage more home-cooked meals. What is more impressive? 77 percent of people said they cook at home five or more nights a week after their kitchen renovation. It means renovating your kitchen can encourage home cooking, even if that is not your intention.
Host more Parties:
People who love to be the host–but do not like their kitchen–renovate to build an excellent place for their guests to hang out. After all, the kitchen is generally the critical point of the party. Having a new kitchen for entertainment motivated 41 percent of people who underwent a renovation.
For a Fresh Look
Sometimes you may require to renovate your kitchen because you just can not stand the look of it anymore. It was the case with 44 percent of the survey respondents who wanted to refresh the look of their kitchens. While it may not be directly associated with your health, having space you love instead can drastically boost your happiness and well-being.
Our Favorite Kitchen Countertop Material
Source: Pinterest
Countertop materials have evolved drastically over time. More and more advancement has been taking place, such as kitchen countertop with extended office table have created more ease for people to continue working while maintaining a healthy lifestyle for their families.
Granite
For a long time, granite has been the countertop material of all time when there are no other things to consider—such as money. Granite portrays elegance in a kitchen. Even modest kitchens look like luxury spaces when backed the mesmerizing granite countertops.
Granite is known to be an expensive material, but its cost has decreased somewhat as supplies have boosted, and engineered stone became more frequent.
Pros
Almost resistant to heat
Very hard and durable
Increases value of your home
More than 3,000 different colors and types available
Virtually maintenance-free when treated with newer sealers
Cons
Not an economical material
Not recommended for DIY installation
Slabs might have some imperfections
It cracks if stressed or improperly installed
Knives are dulled quicker by cutting on granite
Stone is porous and sealing to evade stains.
Soapstone
Source: Pinterest
Soapstone is also natural stone, generally dark gray with a smooth, silky texture. It has seen a recent surge as an alternative to granite. Soapstone is often used in historic homes but is also widely used in modern homes as both a countertop and sink material. With time, soapstone takes on an antique-like patina that can be very alluring in a specific type of kitchens.
The architectural soapstone is used for countertops and is quite durable and resistant to stain. However, it can scratch over time, although this can add to the unique patina of the stone.
Pros
Smooth, rich color
Somewhat stain resistant
Fairly impervious to heat
Damage can be sanded out
Portray's an antique, historical appeal to a kitchen
Cons
Might darken over time
DIY installation not possible
Must be treated with mineral oil
The surface is smooth to scratch and dent, though this can build an attractive unique look
Marble
Marble is another natural stone very commonly used in kitchen countertops. Because two sheets of marble are not the same, every marble countertop will be entirely exquisite.
Because it is costly, marble is not often seen on the countertops of full kitchens. More often, its luxurious look is just limited to its use on an island or section of countertop reserved for the baking center
Although it is highly prized, marble might not be the best option for kitchens, due to its propensity for staining and scratching. New sealers can minimize the upkeep on marble, but this is considered to be a more temperamental stone as compared to granite or soapstone.
Pros
Heatproof and Waterproof
Increases the value of a home
Gorgeous stone, with antique veining
Cons
Expensive
DIY installation is not possible
Can easily be scratched; repairs are hard
Stone is porous and stains quickly unless it is sealed
Quartz (Engineered Stone)
Source: Pinterest
This material is known as "quartz," which is an engineered stone that consists as much as 93 percent quartz particles and other minerals, into slabs, and packed with resins. These are not the solid quartz slabs created by quarrying. Quartz is what we used in a white kitchen with a white countertop in Vaughn. It gave the kitchen an out of the world look. White quartz countertops are in trend and are a fresh addition to your dull kitchen.
It is sold by companies like DuPont Zodiaq, LG Viatera, Cambria, and Silestone; Quartz was made as a more adaptable and better alternative to marble and granite. It is available in a broader range of colors than granite and consists of a nonporous surface that resists both scratching and staining. Some kinds are first copies of natural marble, with the same veining. Unlike natural stone, engineered Quartz needs no sealing.
The same technology is now used in so-called glass countertops, which is made up of particles of recycled glass mixed with resins and shaped into countertop slabs. Clients keen on being on the cutting edge might want to use glass and also quartz countertops.
Pros
DIY installation is possible
It is easy to maintain, no sealing needed
Slabs are uniform, with no imperfections
It can be custom-made in any shape and size
Resistant to stains and is resistant to heat and acid
More convincing, natural appearance than material with solid surface
Cons
Very expensive
Countertops are very heavy
Solid-Surface Material
Solid-surface Material
Solid-surface material. It is sold under brands including Avonite, Corian, and Swanstone is a human-made material that consists of a mixture of acrylic particles and resins that are compressed into sheets and other shapes. Solid-surface countertops and sinks have been there for a long time, but at the time of introduction, they were known as the alternatives to natural stone, which they mimic.
Once known as the premium, luxury countertops and solid-surface material are now considered somewhat mid-tier, but it is still an excellent option for mid-range kitchens. It can also be an excellent material in sleek kitchens with abundant countertop space that would be expensive to fill with granite or Quartz.
Pros
Resistant to stains
Seams are virtually invisible
Damage can be sanded out
Available in many colors and textures
Integrated sink/countertops are available
Cons
Moderately expensive
Vulnerable to injury from hot pans
DIY installation is not possible; professionals must fabricate it.
Our Favorite Backsplash Material
Source: Pinterest
When choosing ideal kitchen backsplash material for your kitchen, it is essential to keep in mind the critical function of the backsplash. Its role is to protect the wall area between the kitchen countertop and the upper cabinets, from spills and splashes. For this job, the material itself needs to be waterproof and heat resistant and painting it should be easy.
Tile
Tiling is known as one of the most in-demand backsplash materials and is available in a wide variety of materials, such as ceramic, porcelain, and glass. The ceramic and porcelain come in a vast range of different colors, sizes, shapes, and styles, ranging from plain white to decoratively ornate. They can also be arranged in numerous different patterns. Backsplash tiles are heat and water-resistant, as well as being easy to clean with the right grouting choices.
Marble
It is hard for the marble to look anything other than luxurious and sophisticated. A marble backsplash in the form of marble slabs can complement matching countertops and other different features within the home kitchen. This natural and beautiful material is extremely durable and heat-resistant, although it is porous, so it needs periodic resealing.
Quartz (Engineered Stone)
It is also called engineered stone; Quartz is comprised of quartz particles bound together with a polymer resin and color pigments. Engineered stone is adamant and also resistant to scratches and heat. It is also nonporous. Quartz backsplashes are available in a broad range of different colors and styles to suit any kitchen. But White quartz backsplash is making rounds over the backsplash industry. These days people also prefer matching backsplash as their countertop. It is indeed a mesmerizing but costly addition.
Glass
The glass might at first seem an unusual choice when looking through kitchen backsplash materials. Still, it can make a beautiful decorative impact. Glass backsplashes come in a variety of colors. They can be combined with screen-printed images to form an attractive and artistic focal point in the food preparation area.
Wood
Wood can make a beautiful kitchen backsplash material even in modern-style interiors. The unique natural grains and textures of wood provide a stunning backdrop to the home cooking environment. Once sealed, wood is long-lasting and safe from water and stain damage. The great thing with wood is that you can salvage the material yourself if you know a suitable location.
With wood, it is essential to check safety requirements regarding flammable materials, and precise distances, particular sources of flame need to be kept.
Designing Custom Cabinets For The Homeowner
Source: Pinterest
When initiating the design process for custom kitchen cabinets, a good renovation company initiate with how you, the homeowner, work within your kitchen. It is not just enough to replace the current equipment. Instead, they should ask questions from you about your daily work within your kitchen. Custom white kitchen cabinets are sure to add beauty to your kitchen. Another cool addition in your kitchen can be under cabinet lights which are sure to make your guests jaw-drop.
What do you like to cook? What do you cook regularly? Where will you keep your ingredients, pots and pans, utensils? These questions help you in guiding the design process to maximize efficiency of the kitchen. Once the renovation company has a better understanding of how you operate in the kitchen, they should produce a design that will maximize the efficiency and organization of your kitchen.
Custom Cabinets Should Maximize Efficiency

One aspect is that the remodeling company should think about the number of physical steps it takes to get from one part of the kitchen to the another. They will see the number of steps from storage i.e refrigerators and the storage cabinets, to preparation area i.e sink area, to the cook top. When properly designed, the kitchen should be in way so that nothing is far. Cabinet placement is centered around the cook.
Here are some tips when thinking about the design of your new kitchen.
Begin Taking Note of Those Issues in your Kitchen
What are the areas of the kitchen currently inefficient? Which cabinets or drawers are always getting disorganized and cluttered? Which offices do you access frequently? What are the main problems with these areas of your kitchen?
Prioritize the Places that You Would Like to Have Fixed From Highest to Lowest
It will help your kitchen remodeler have a better understanding as to how you work within your kitchen.
Consult a "Design-Build" Home Remodeler
Most remodelers just focus on the nuts and bolts of doing a home remodel and do not get involved in the design process. Design-Build companies, however, focus on both the design and the building process. Often, Design-Build companies will have the best insight and open you up to new ideas when designing your custom cabinets.
Pot Lights
Source: Pinterest
Pot lights makes a room feel bigger because it actually occupies less visual space in the room. Because the lights are set into the ceiling itself, nothing is hanging to interrupt the visual appeal of the ceiling.
Pot lighting can make a room look bigger due to an effect called "wall washing". Wall washing is the lighting effect that casts more light around your room with the use of the right type of trim. Wall washed trim includes a directional reflector and a light scoop that directs light onto your wall. If you have got a sloped ceiling, an "eyeball trim" can also be used.
If you are looking for modern kitchen renovations that will suit your aesthetics give us a chance. We will evolve your kitchen experience like never before. ASASA Construction has been known for its versatile kitchens across Canada. Our experts are trained to create state of the art kitchens.
For more read: A Detailed Kitchen Remodeling Guide